A few words about Tuttle Publishing:
Tuttle Publishing Company is a premier publisher and seller of Asian culture, history, and language books. 
It was founded in 1948, and every year publishes about 150 new titles focusing on Asian languages, foods, gardening, crafts, children's books, and more.
When it comes to the art of folding paper they have lots of paper packs, kits, as well as books.
200 Sheets Kimono Patterns Origami Paper Pack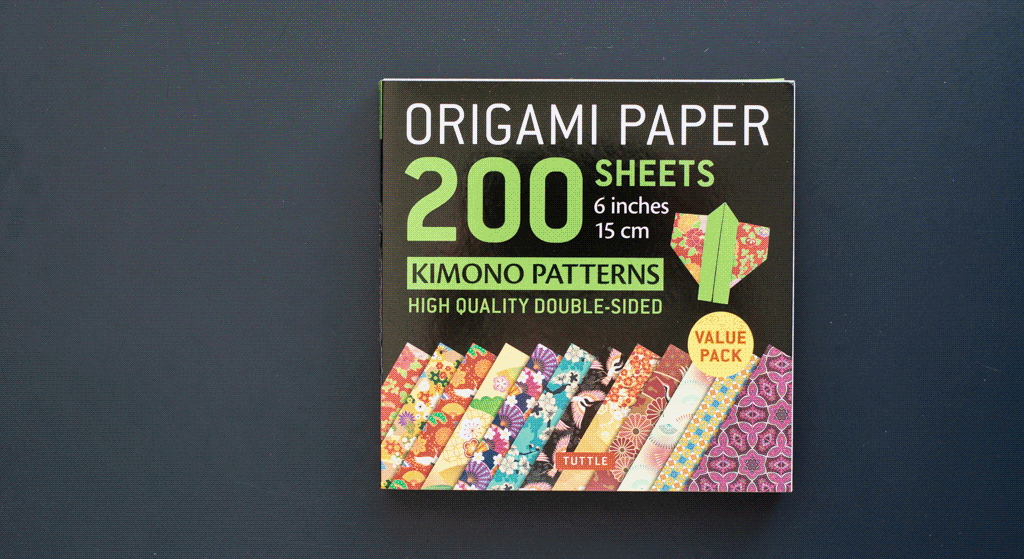 About 65 gsm. I say about because I did not see this information on the pack, but I used a formula found online and got this answer.
6 inches x 6 inches or 15 cm x 15 cm.
This size is great for simple to medium complexity models. I really like this size for kusudamas as well. I usually cut the paper in 4, so I will have a 7.5 cm x 7.5 cm for one module.
You get 12 kimono patterns with solid colors on the back.
The patterns are just amazing. You can use them for a large variety of models. You might be tempted to believe that this paper works only for kusudamas because of its complex patterns but just look at the animal model I did. It looks stunning.
And you can also take a look at the flower model I folded to see how cool the color side looks with the patterned one inside the flower.
And let's not forget that you get instructions for 6 models inside the pack. You get diagrams for a swan, a star box, a tortoise, a crane, a peacock, and a kimono.
As always, when it comes to patterned paper, I do have my favorites and some that I don't like that much (only 2), but for those that are not my jam, I can always just use the back solid color.
You can see all the options you get in this 200 sheets kimono patterns paper pack and their back color below.
It's smooth at the touch, so no solid texture there. The paper is thin and looks like the patterns are printed on the paper with beautiful colors.
This is my favorite "feature" of this brand's origami packs.
I believe all origami packs from Tuttle Publishing are extremely photogenic. 
Till now I tried 6 packs (actually 7 but I had a double) and the photos I got for the models I folded with this paper are just amazing. The colors turn out incredible in the photos.
I had no problem seeing the folds, reverse them or unfold and fold them again.
You can get in a bit of a problem if you choose a model with too many folds one on top of each other, as the paper might break and because the pattern is printed on the paper you might get a bit of a white spot where the paper breaks.
Besides that, and for kusudamas and simple models I did not have this issue, the paper was easy to fold with, and I could always see where the fold was before and it was easy to reverse the folds as well.
You can buy this paper pack from their official website here.
I started to see those packs in one of my local arts and crafts shops but I have to admit that the price was a bit more pricy than what it's on their site.
I am sure there are more sites you can buy this pack from, so choose what works best for you.
200 Sheets Kimono Patterns Origami Paper Pack - What I Folded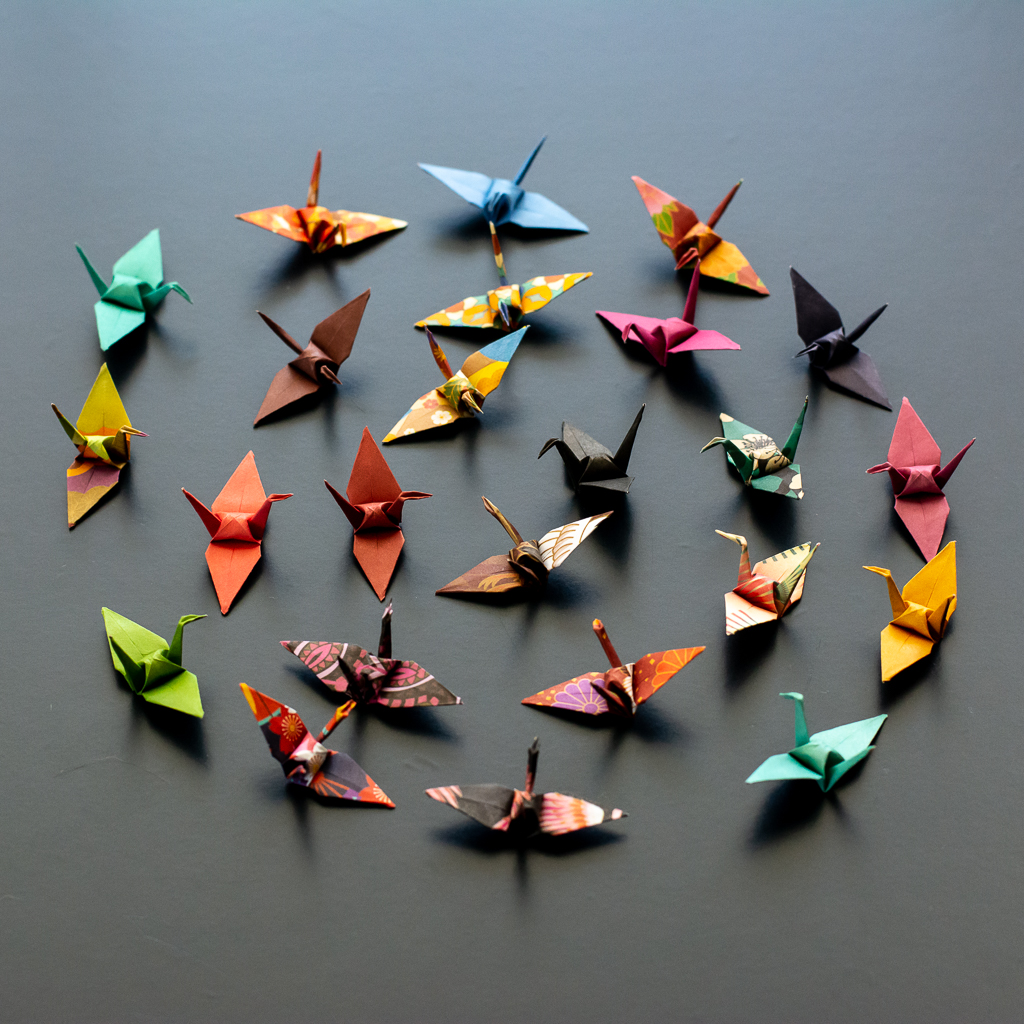 For the kusudama I chosen the model: Sky Star Kusudama designed by Maria Sinayskaya.
When I first saw this model folded on Instagram I just knew I will have to give it a try as well.
I like how the pattern looks on this kusudama. It makes a simple shape like this one, looks so complex.
You might think that it hides some of the details of the kusudama, but I like how it turned out. I think being more discreet looks good.
The paper also holds its shape really well even as time passes by.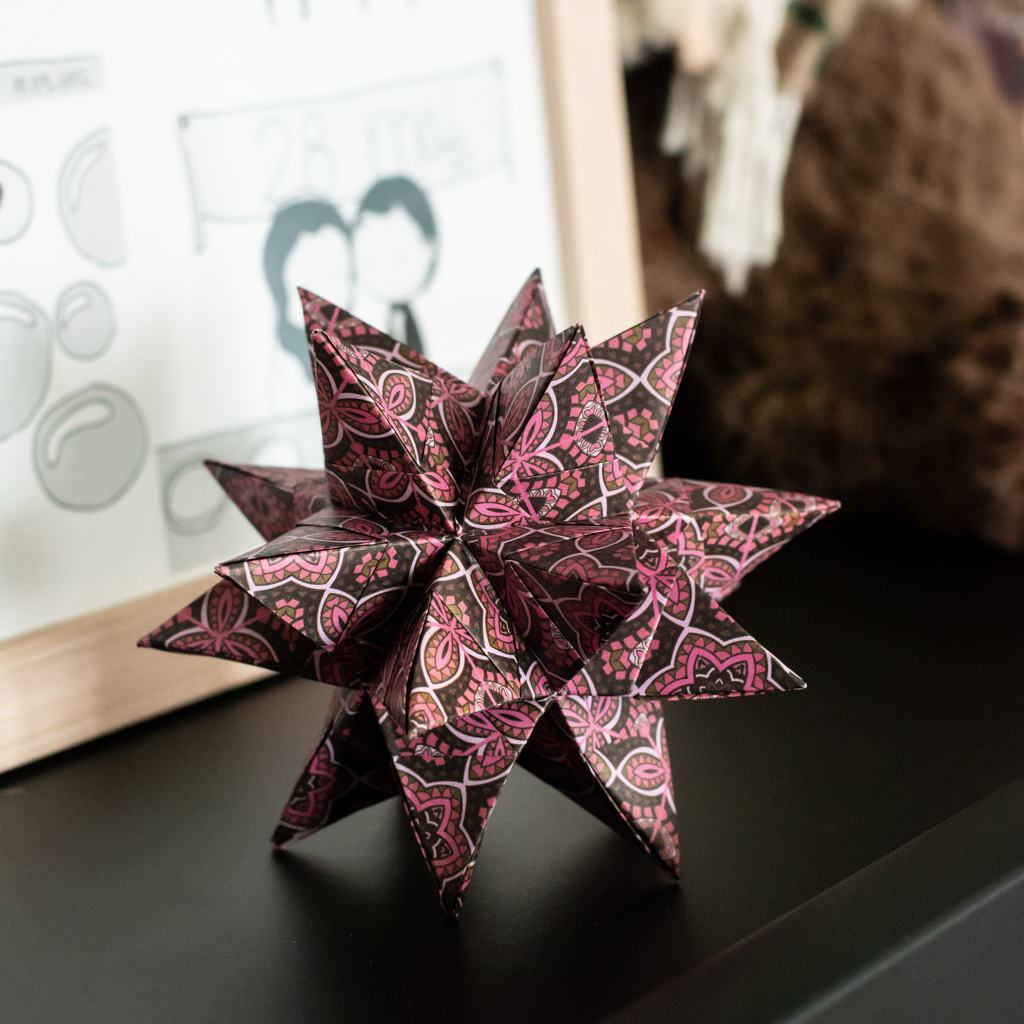 Do you like to fold the corner of the book, to try to remember the page number or use a bookmark?
I like to use a bookmark. So here is this cute Dragon Bookmark designed by Jo Nakashima. You can find an easy-to-follow tutorial on how to fold it on his YouTube channel
I do admit that those kinds of bookmarks look amazing when you have them in books on a shelf or a nightstand, but If you are traveling with the book, they might get a bit destroyed, especially if you are just shoving the book in your backpack with other stuff in it.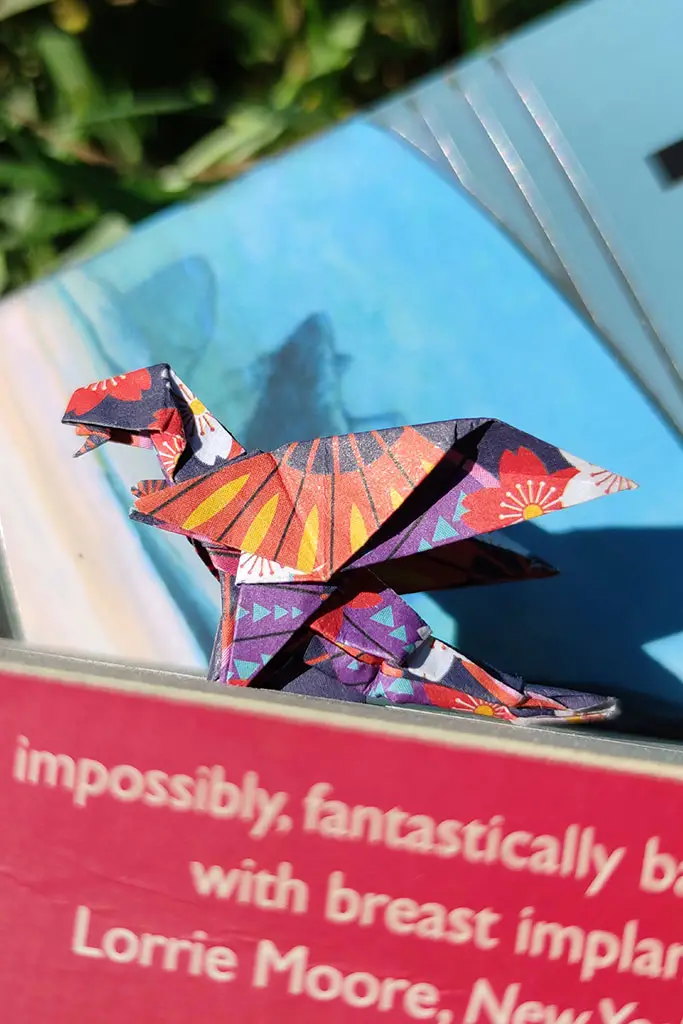 This model is Squid designed by Toshikazu Kawasaki. and folded by me. You can find the diagram in the book Origami Dream World by Toshikazu Kawasaki. (and you will find so many more amazing models in that book)
The model was easy to fold and the paper holds its form so nicely.
What can I say, I think this looks amazing. I love how the flowers and the colors of this pattern look on this shape. 
I think you can tell that I really liked this pattern.
This pack has some amazing colors that you can use for origami flowers. 
The model I went with was the Kopok model designed by Eagle.
I think the model looks really good, it's not hard to fold or assemble it.
I used 15 x 15 cm paper for the big flowers (with the darker base of 10 x 10 cm) and for the smaller ones I use 10 x 10 cm (with a 7.5 x 7.5 cm base). As for the bloom is 7.5 x 7.5 cm for both elements.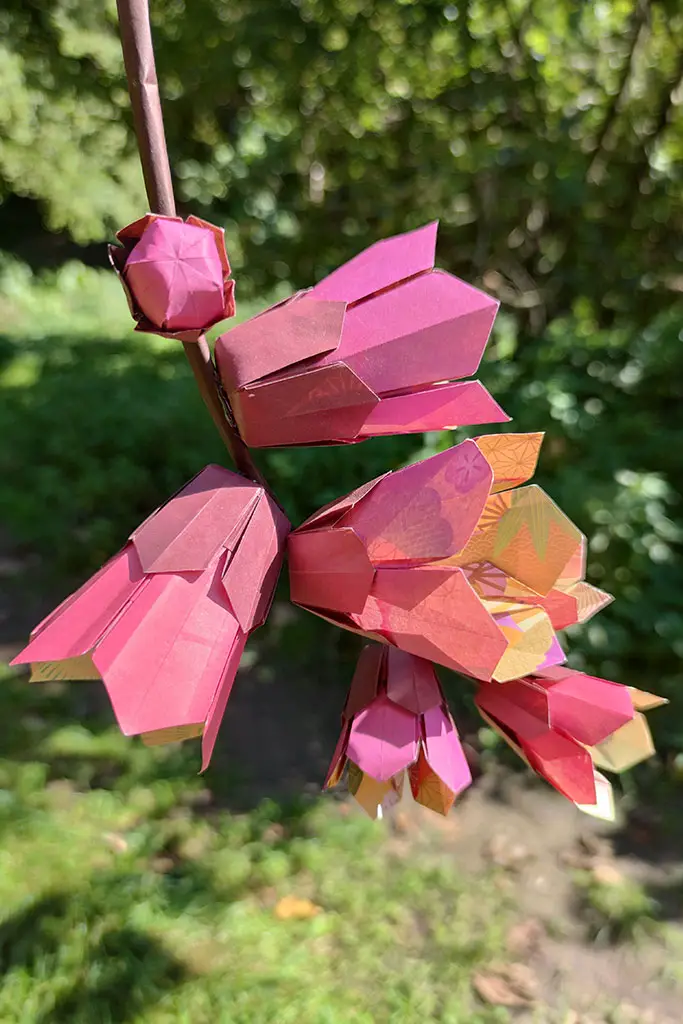 This model is folded after a model called Fairy Lights designed by ESTHER THORPE.
I did not take any course (I think she has one) or anything, I just looked at them and folded and this is what turned out. So they might be different, they might be the same.
Either way, the model looks nice and it's great for Christmas decorations.
The paper worked amazing for this model.
I would like to fold this model again as it has such a nice shape.
200 Sheets Kimono Patterns Origami Paper Pack - Final Words
This is the last pack of this series. I am so glad I got this opportunity and I have those packs to play around with for more projects to come. 
Tuttle Publishing makes some great origami paper in my opinion. The packs are amazing for beginners, kusudamas, or easy to medium complexity models.
What I love the most about those packs are the beautiful patterns and colors they have and how amazingly well it photographs.
As a person with limited storage space, I don't always keep my models for too long, so having amazing photos to remember them by, it's really important for me.
The only drawback I had was when the model had too many folds on top of each other, and then you could see some white spots or the paper could break, but I think this is true for a lot of paper packs I tried. And you would not go with a small size for complex models anyway, so this is not a big deal for me.
I highly recommend them as I had a great time folding with this paper.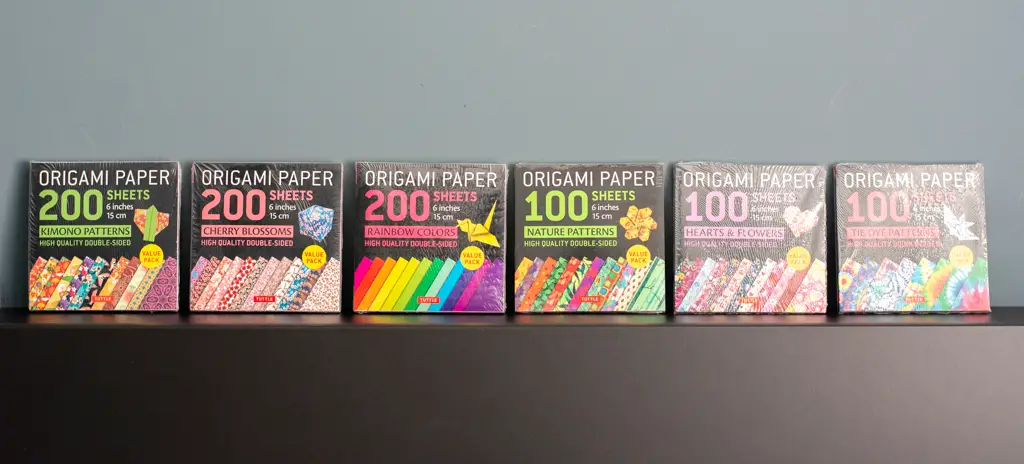 This origami paper review it's the last one of a series of articles. I received 6 packs of origami paper to review from Tuttle Publishing. This for me it's a big honor and a big achievement as well.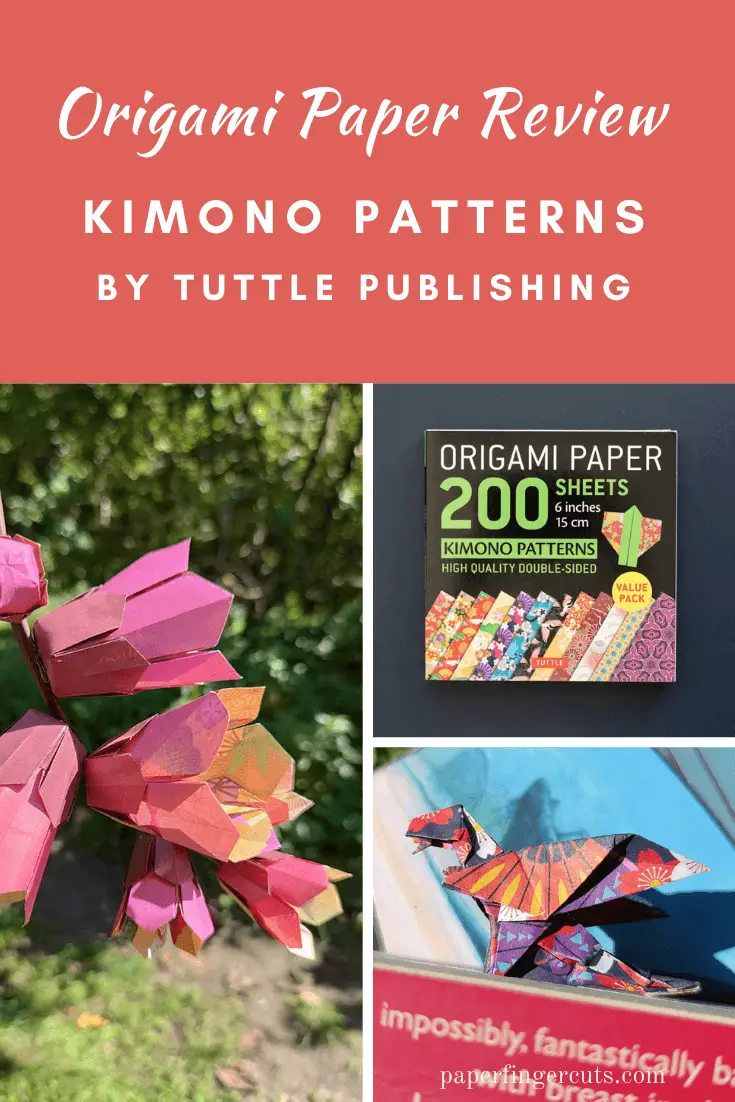 I'm a proud Hufflepuff who loves to fold origami models and share them with the world.