A Few words about the company:
The Tuttle Publishing Company was settled in 1948 in Rutland, Vermont and Tokyo, Japan. The main objective of the company is "to discover, create, publish, and deliver best -in-class books & products that bring the World closer together one page turn at a time." The main topic of the products being Asian culture.
Origami Paper Review – Tie-Dye Patterns by Tuttle Publishing
On the front cover, we have a beautiful image that shows the patterns you are going to receive, as well as a origami model folded with one of the patterns. You also have the paper information
On the back, you can see the patterns a bit better. You also have an origami pack recommendation as well as the company site.
When it comes to the tie-dye patterns, there are some that I love and some that are just ok for me. This is something perfectly normal for patterns packs. You can't always like all of them. The good think, is that even if you really don't like a pattern you can use the back of the paper, as it has nice colors on the back as well.
Let's start with my favorites:
And those two are the ones that I don't like so much:
I used a formula to calculate the grams of the paper. I got a 65 gsm, the same as for the Rainbow Colors Pack.
This is a 100 sheets of 15 by 15 cm, or 6 by 6 inches origami paper pack.
The paper looks really good even when you cut it in 4, for kusudamas or other smaller models.
The pack has 8 patterns with a solid color on the back.
For the back you get 3 greens, 3 blues and 2 pinks.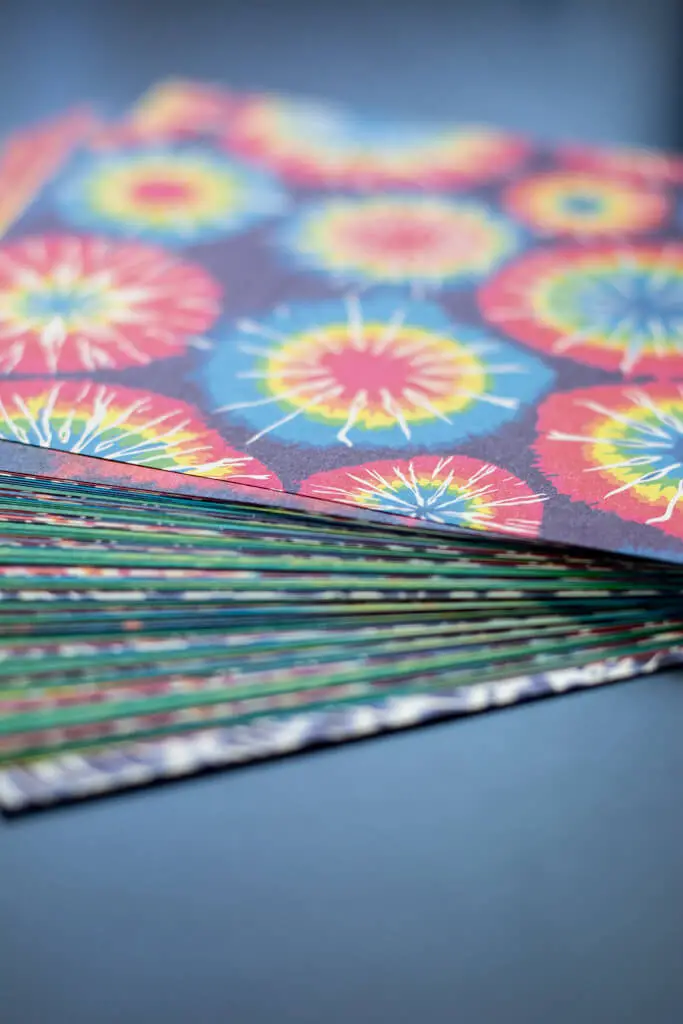 It's not a texture that you can feel when you touch the paper, but on some patterns, you can see a canvas like texture. 
The models that you will fold with this paper can appear to be from a painting. You can see that effect here on those sunflowers.
The paper has a little shine to it.
5: How does it photographs?
The paper packs from Tuttle are very photogenic. They photograph extremely well. Here are some models that I folded with this pack:
It has a great memory. You can easily see the crease you just made and use it later in the model.
Reversing a fold is not a problem for this paper.
You can buy the paper from their official website here.
Origami Paper Review – Tie-Dye Patterns by Tuttle Publishing
I love folding cranes. Those are made from a 3.75 cm square and they look amazing.
Here you can also see the back color of the patterns as the cranes are folded from both possibilities.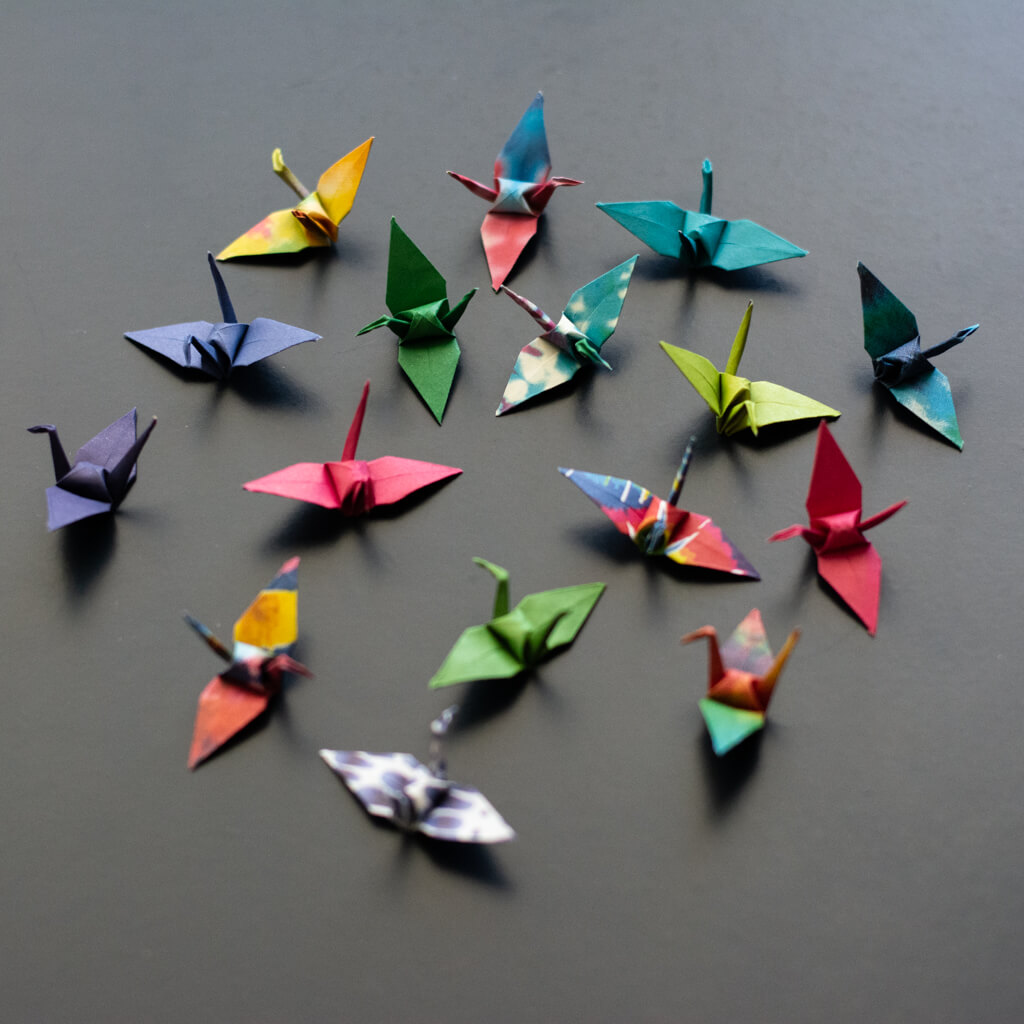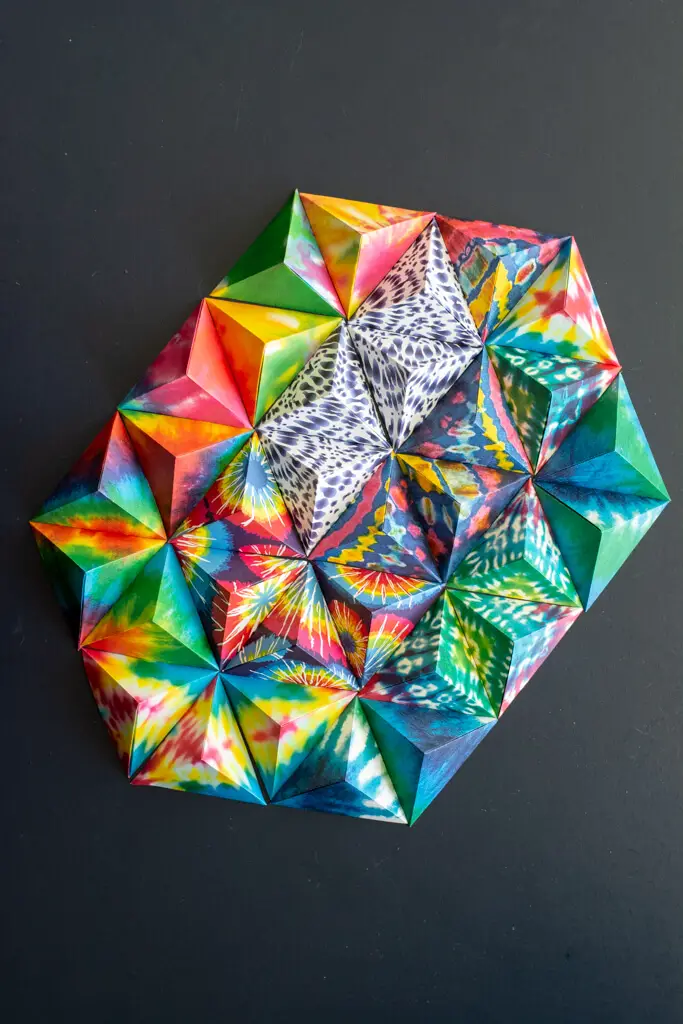 The patterns are working really good for kusudama/ modular models.
Because of how great the back color is, you can make models that show both side of the paper.
It's easy to fold, you get sharp edges and the final result is stable and holds its own weight.
For the wall decoration, I folded just some simple pyramid shapes. If you want to try it yourself, you can check out this tutorial here.
And below you can see the Bascetta Star Kusudama Designed By Paolo Bascetta and folded by me.
You can see how amazing this paper looks and how you can use more than one pattern to create this painting-like look.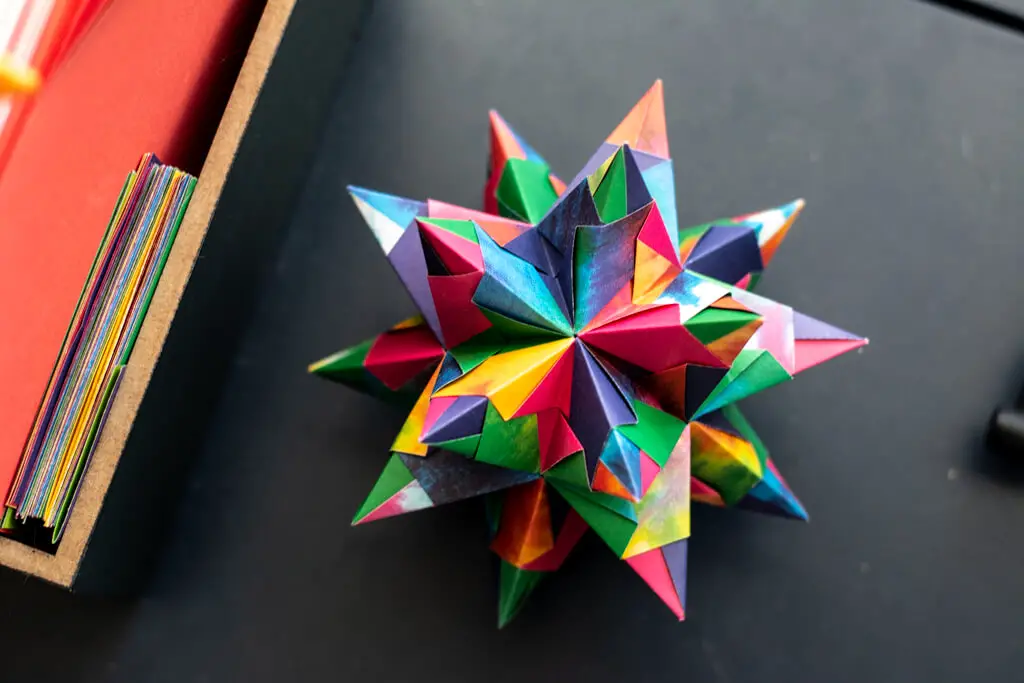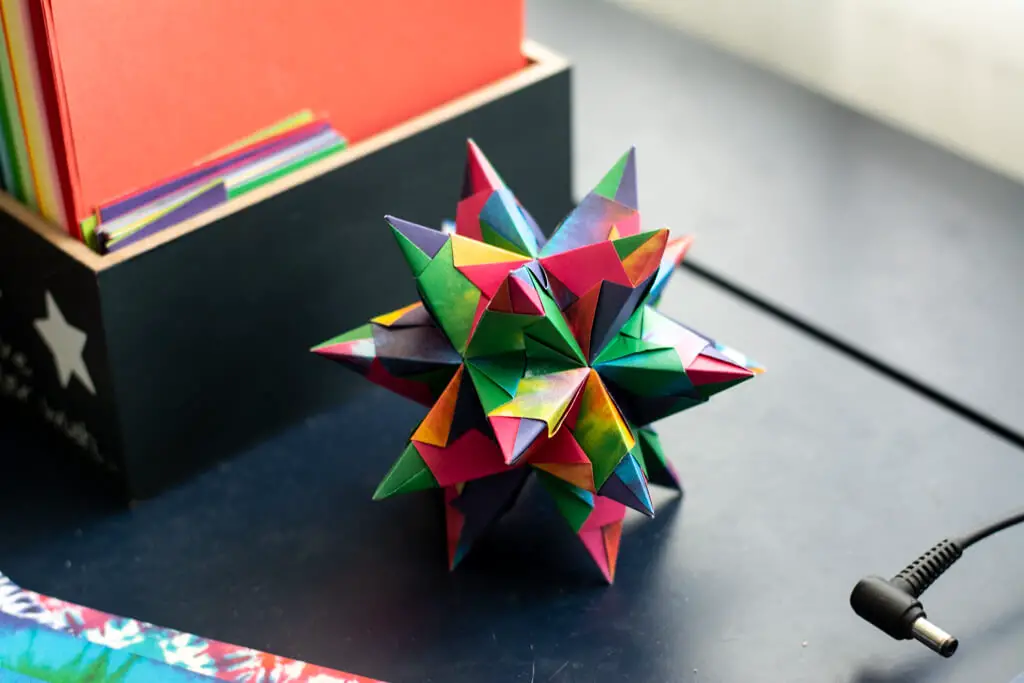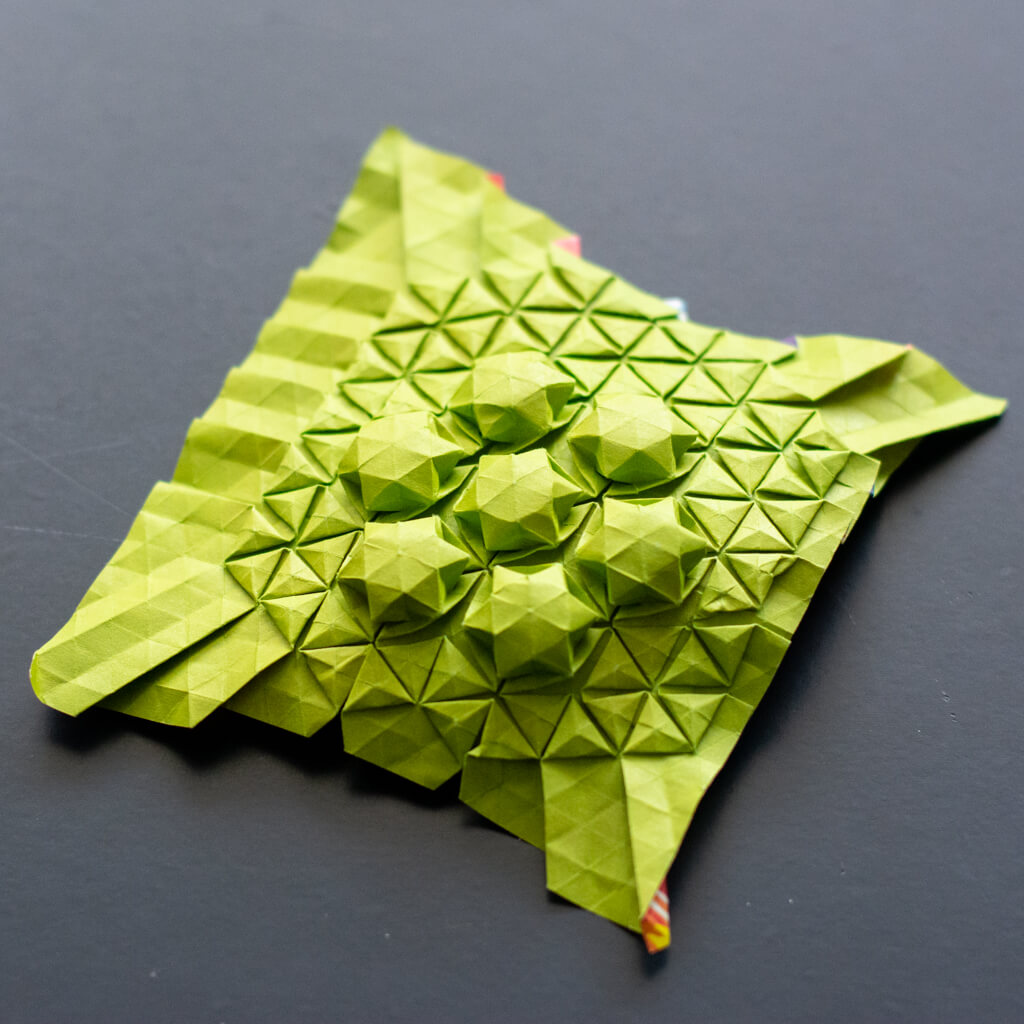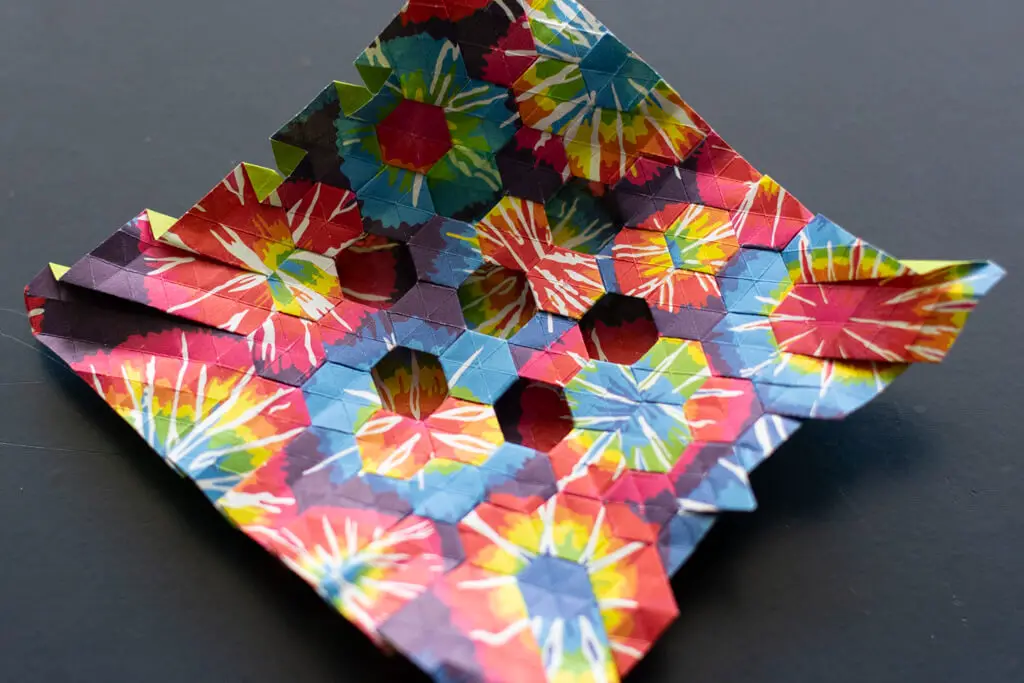 The paper did really well. 
I tried the paper with a beginners tessellation called star puff. It has a 32 triangle grid and as you can see the paper did very well. There are no tears or white spots on this one.
Going from a 16 to a 32 grid was a bit of a challenge because of the size, but I am happy I did it. 
The grid is visible so you know where you have to fold, and the star shape is well definite.
On the reverse, you can see how sharp the edges are as well.
I folded those cute dragonflies.
As you can see the shape is well defined and the paper was able to give me a soft, rounded look for the head and the body of the dragonflies.
The tails are lightly curved, you can get a better curve if you are holding the model in the position you want for a bit longer.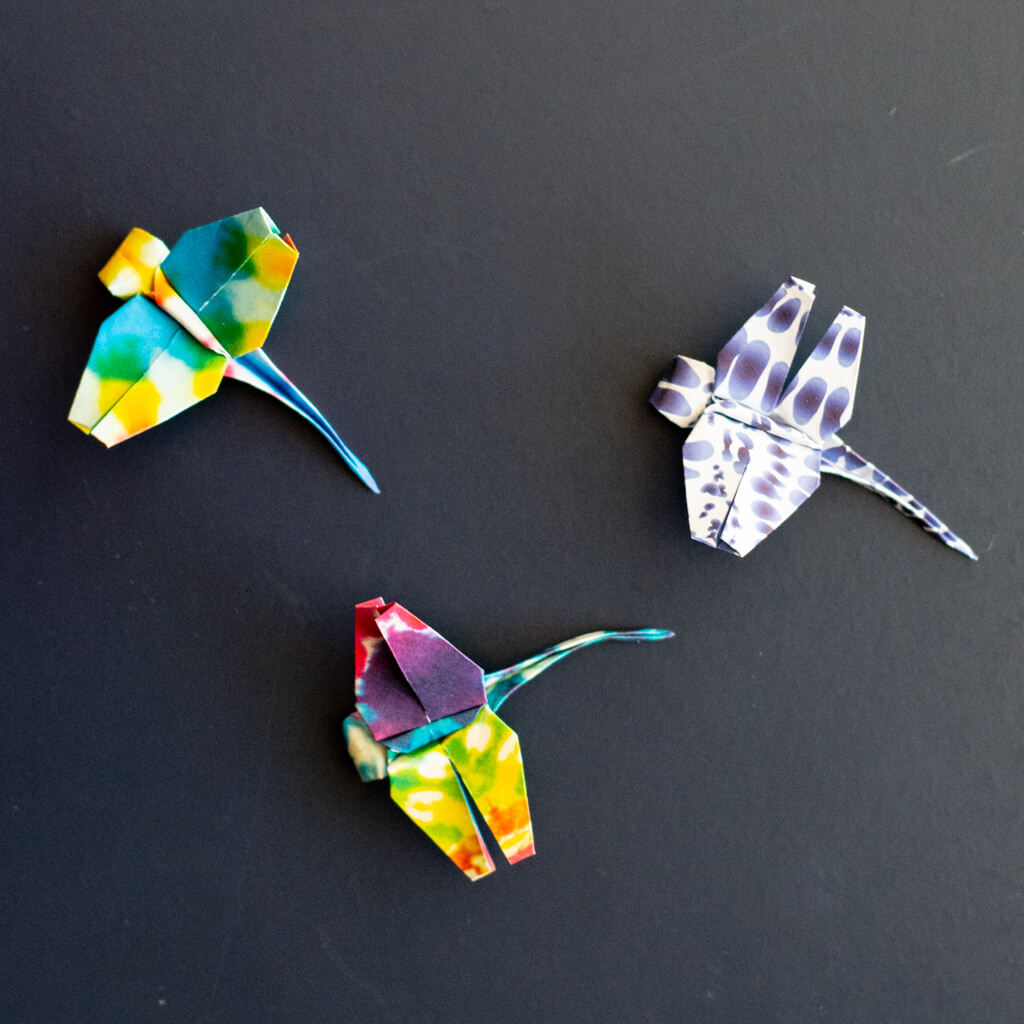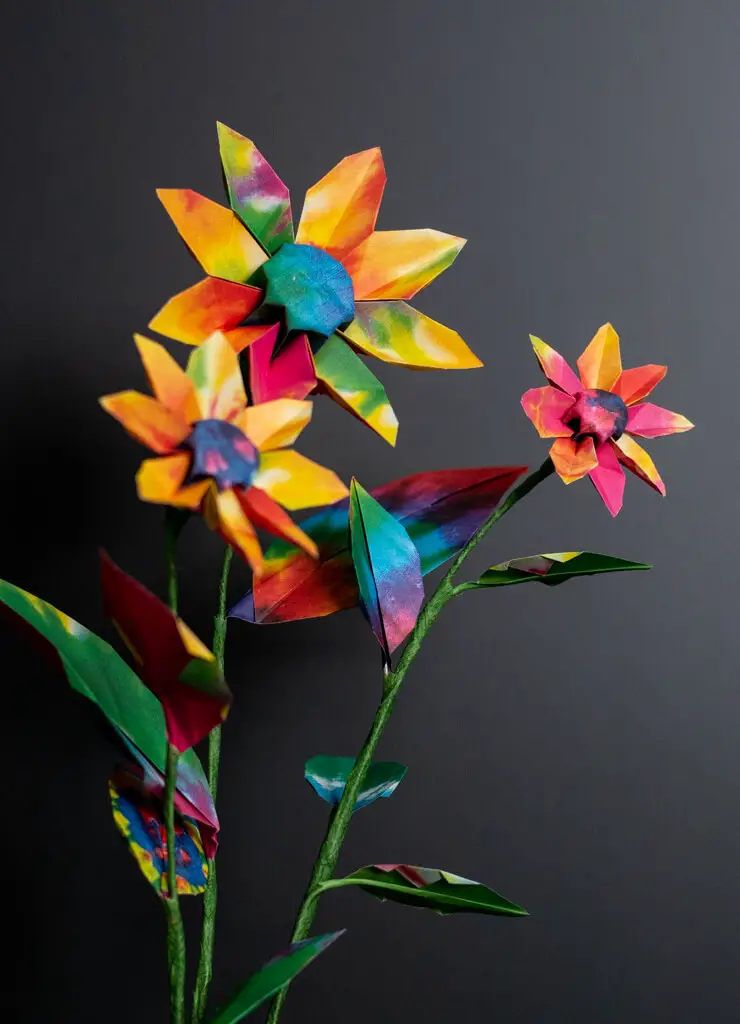 You can find more about those beautiful flowers designed by Makoto Yamaguchi and folded by me here.
I used 3 different sizes for these flowers and they all worked very well.
You can see how clean and round the center of the flower looks, and how sharp the petals are. 
The patterns are working amazingly well for this model, it makes me think of a Van Gogh's painting everything I see them.
Origami Paper Review – Tie-Dye Patterns by Tuttle Publishing
Just the same as the Rainbow Colors one, this pack did very good for all the models that I used it.
The patterns are nice and they still look realy good even if you cut the paper in 4. The back side colors work well with the patterns so you can fold models that are showing both side of the paper with no struggle at all. 
If you are mostly folding kusudamas or simple to medium complex models that this paper will be a great fit for you. I did not folded any complex model this time, but I still folded a tessellation and besides my mistakes (starting on the wrong side of the paper) the final result looks sharp and clean. Even with a small size like this one. The tessellation was indeed a beginner one.
And as always my favorite part beside being an affordable beautiful paper pack, is how well it photographs. I don't always keep my models, as I don't have enough space to properly deposit them so having great photos of them is a must for me.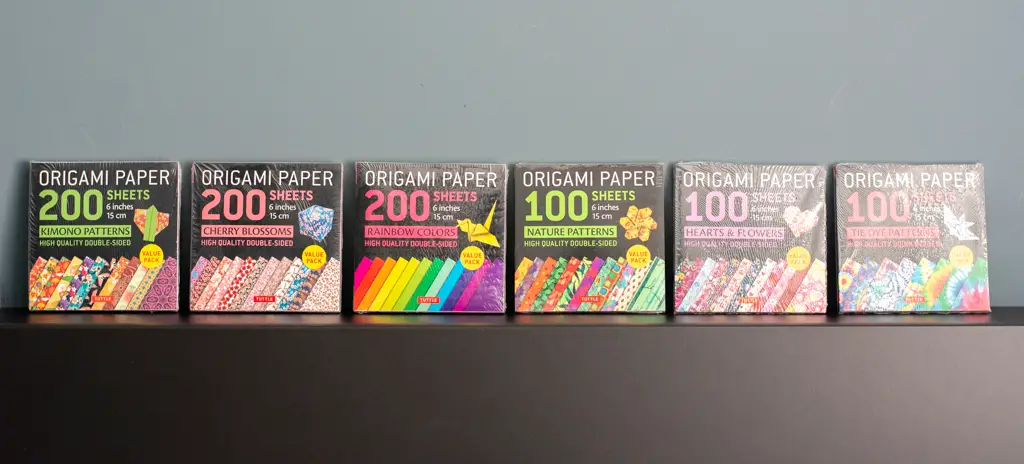 This origami paper review it's the second one of a series of articles. Tuttle Publishing offered me 6 packs of origami paper to review. This is a great honor for me and I'm trying my best to make justice to their paper.
The first review was for the Rainbow colors pack as I did purchased one of those packs myself at the end of 2018 and I had a better idea of how the paper is.
I usually fold simple to medium models (animals and flowers) but sometimes I just feel the need to fold a nice looking kusudama as well.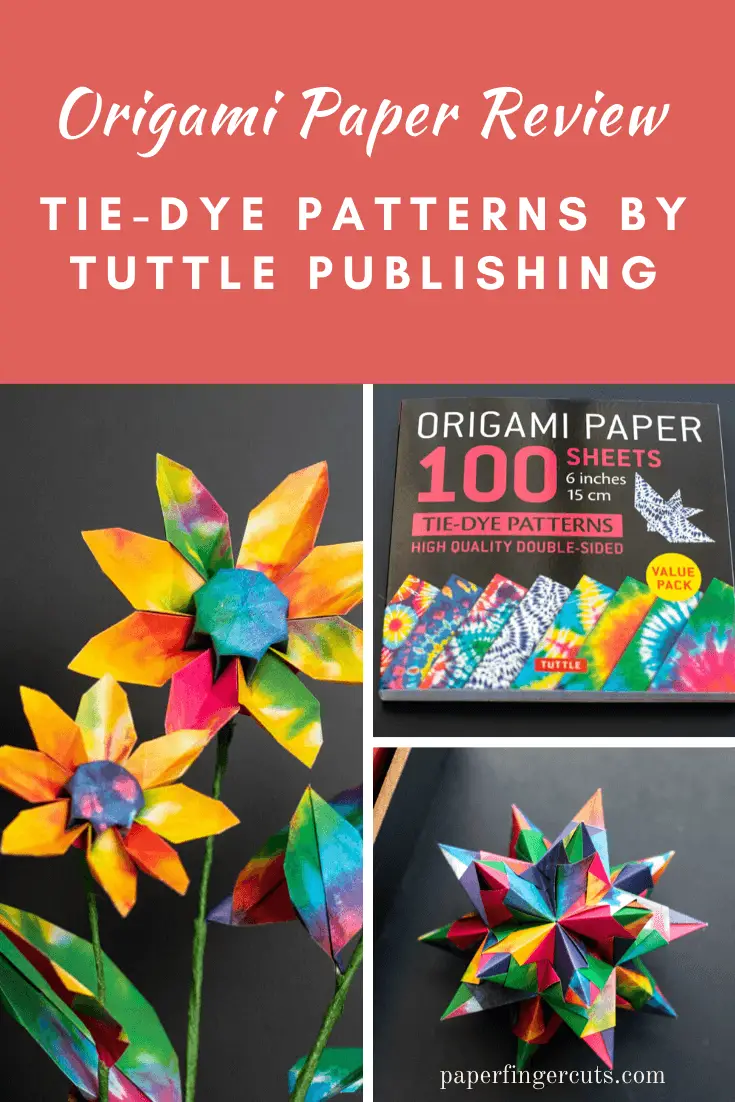 I'm a proud Hufflepuff who loves to fold origami models and share them with the world.