Christmas is a time of celebration and joy, marked by traditions such as decorating homes with lights and trees, exchanging gifts, and gathering with loved ones for festive meals.
Christmas is widely celebrated around the world, with each country having its own unique customs and traditions.
Despite cultural differences, the spirit of Christmas remains the same: a celebration of love, hope, and peace, and a time to spread good will and cheer to those around us.
Window decorations during Christmas time are a beloved and colorful aspect of the holiday season.
Brightly lit Christmas trees, sparkling lights, and festive ornaments adorn windows in homes and businesses, spreading holiday cheer and adding to the overall festive atmosphere.
From classic snowflakes and candy canes to playful reindeer and Santa Claus figures, the range of window decorations available during Christmas time is vast and creative.
You can even make it a tradition to choose new ornaments and decorations each year, adding to their collection and creating unique displays.
Window decorations during Christmas time play an important role in creating a warm and joyful holiday atmosphere, bringing families and communities together in the spirit of the season.
Planning the Origami Christmas Garland
My initial plan was to have 24 models per window panes. 
I decided to make only for the window that is facing the street that has 3 panes.
I then made a tiny sketch that told me that I should have 24 diamond elements and one kusudama. 
I started to cut the paper for the elements and folded and then decided that I want to have some Christmas trees as well, for a pop of green color. So the plan ended up having 3 kusudamas, 42 diamonds, and 21 trees.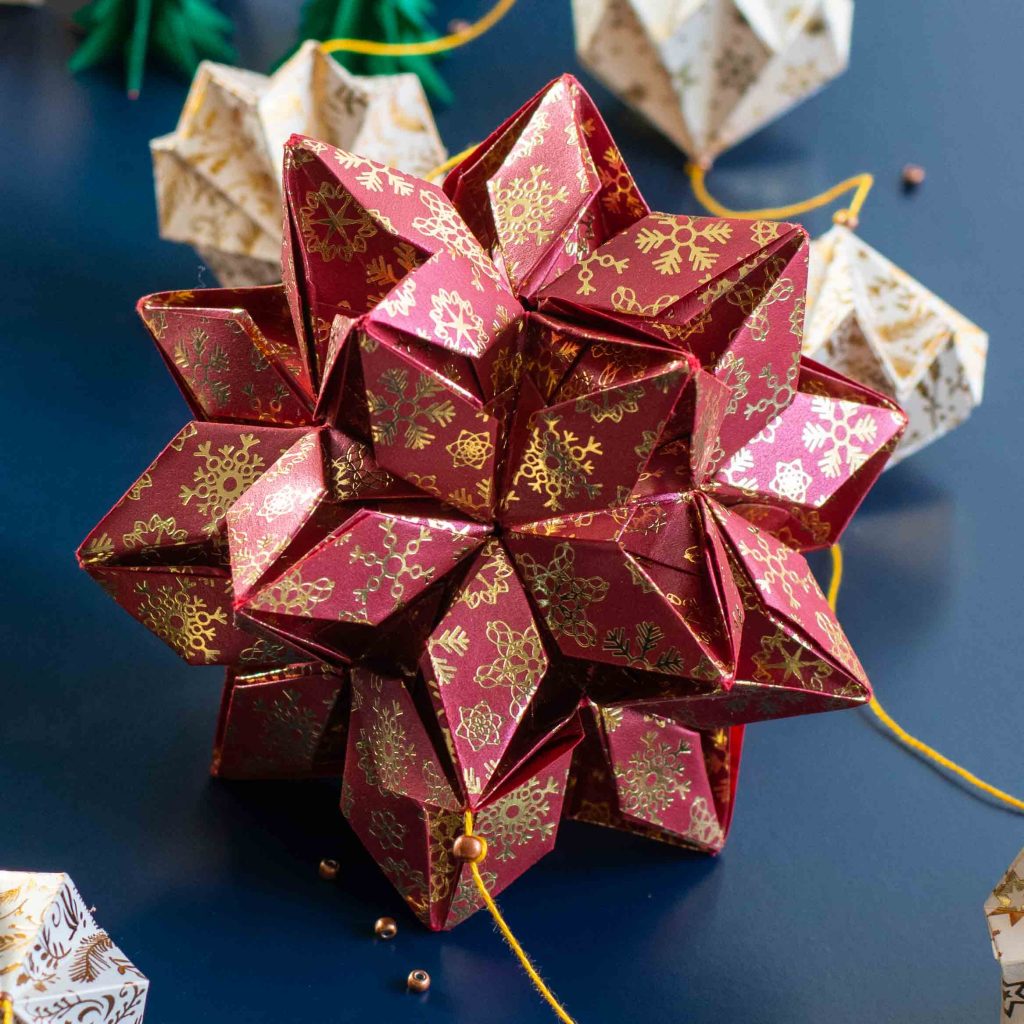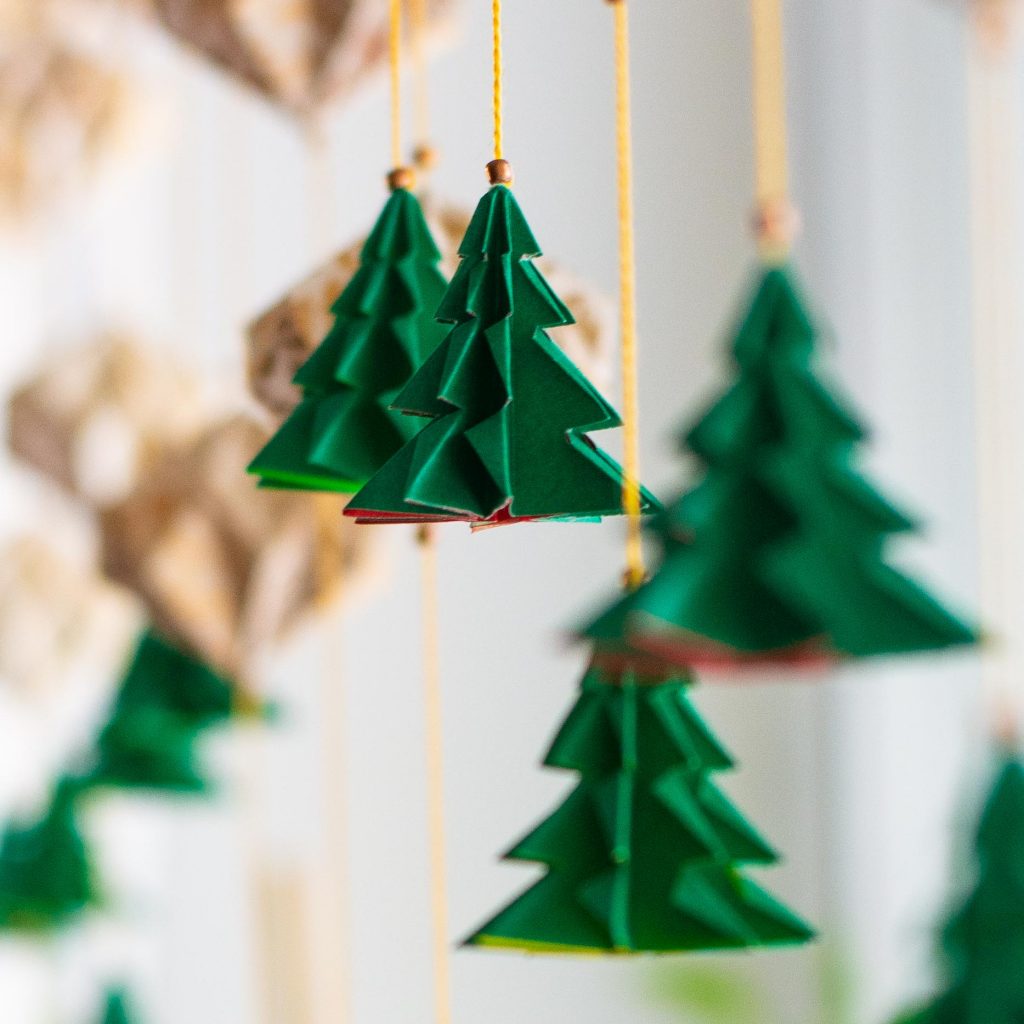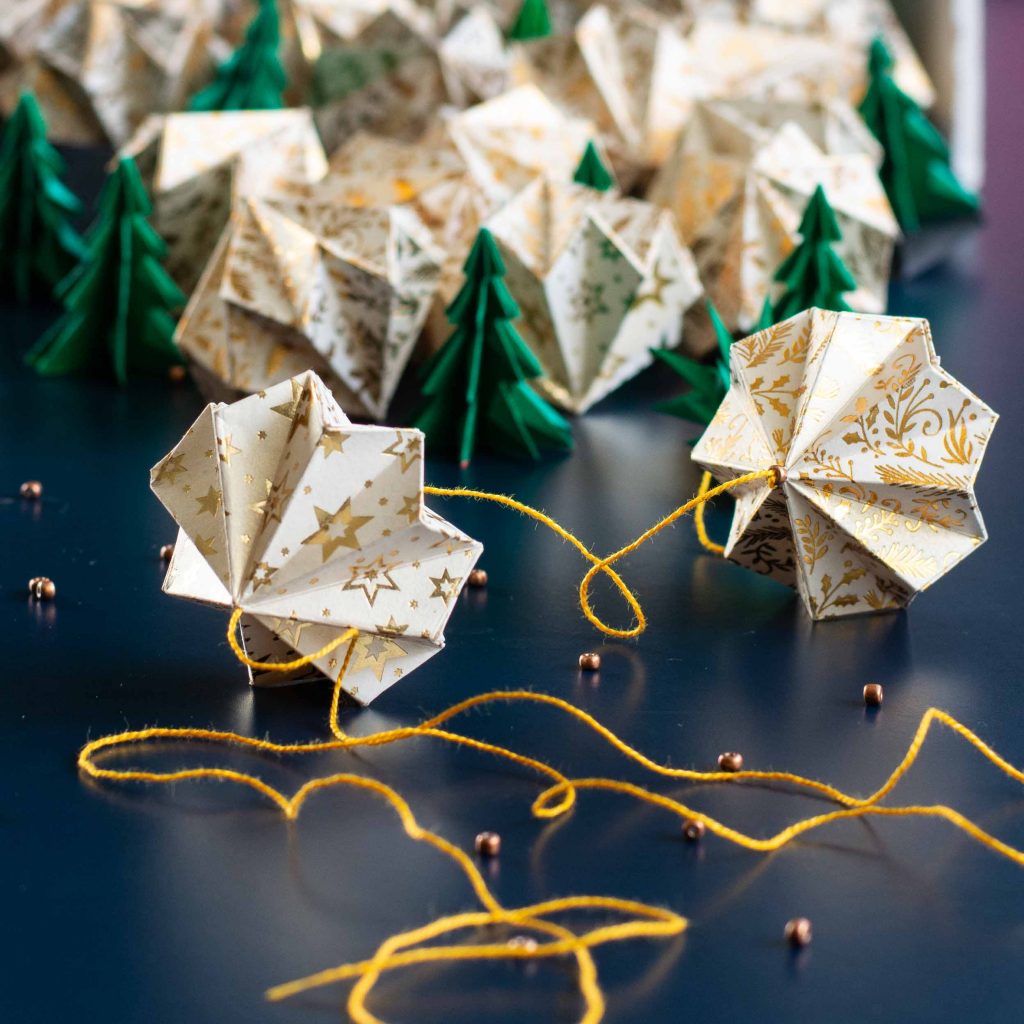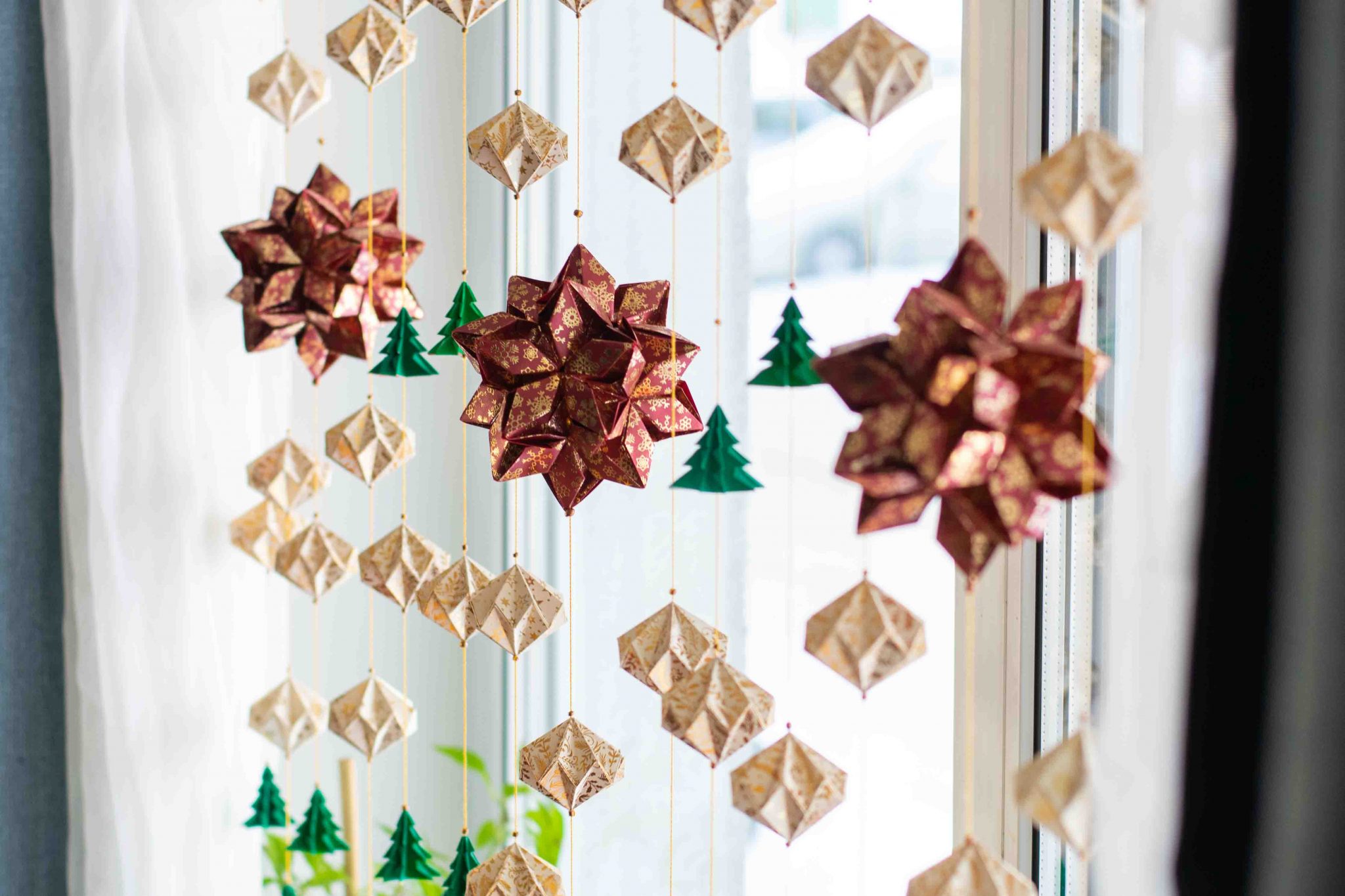 What Christmas Origami Models Have I used?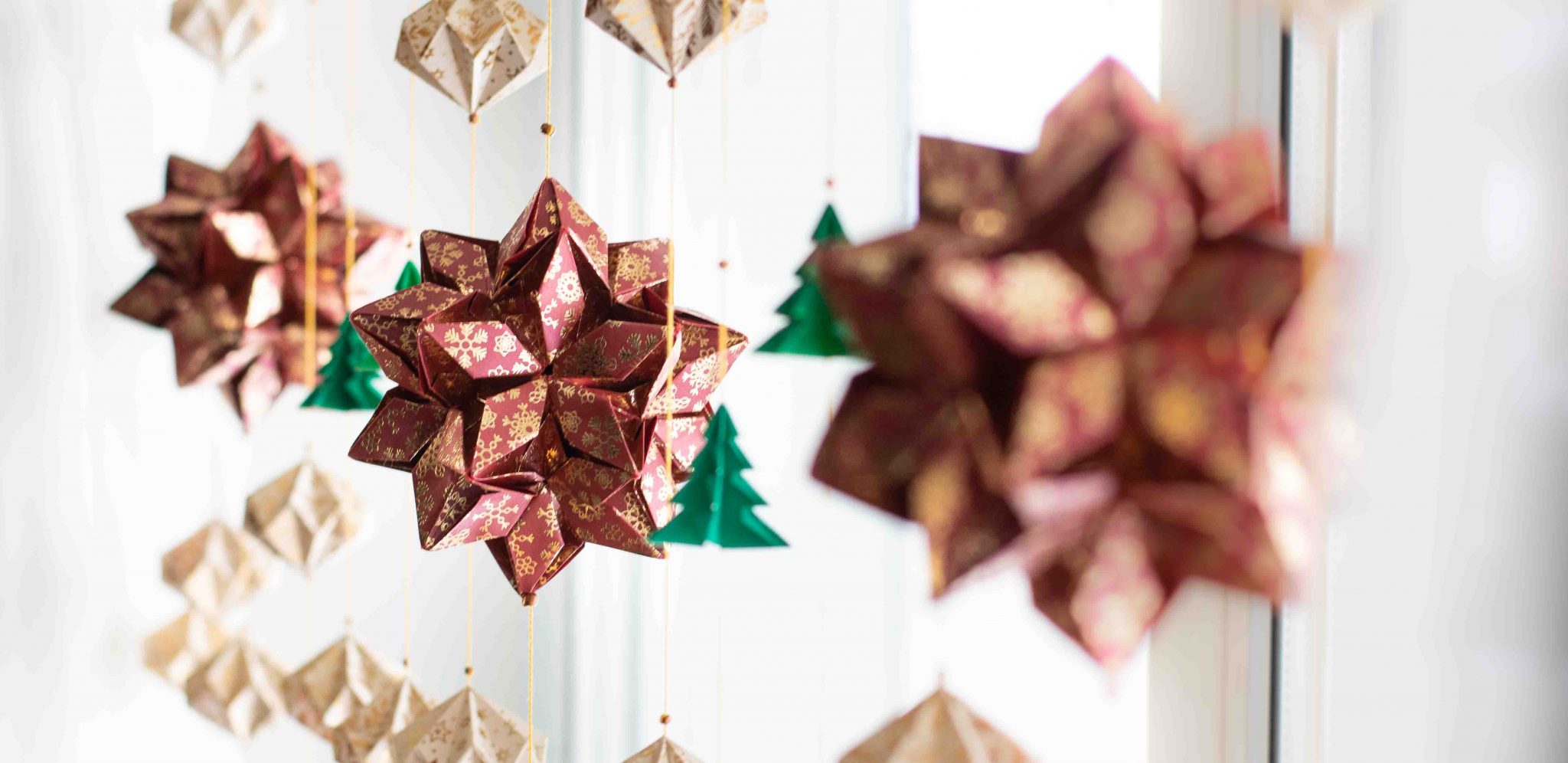 *click on the "diagram by" line to see the diagram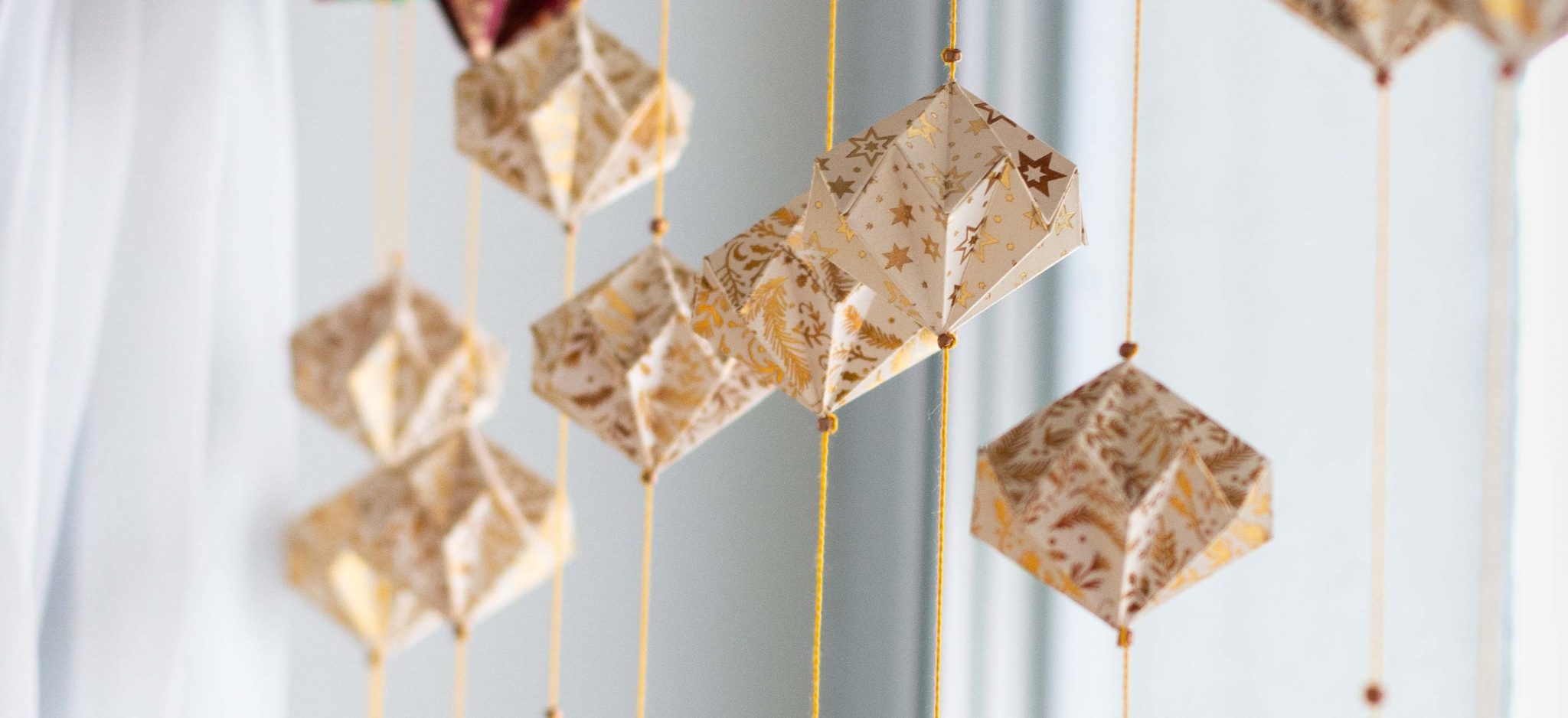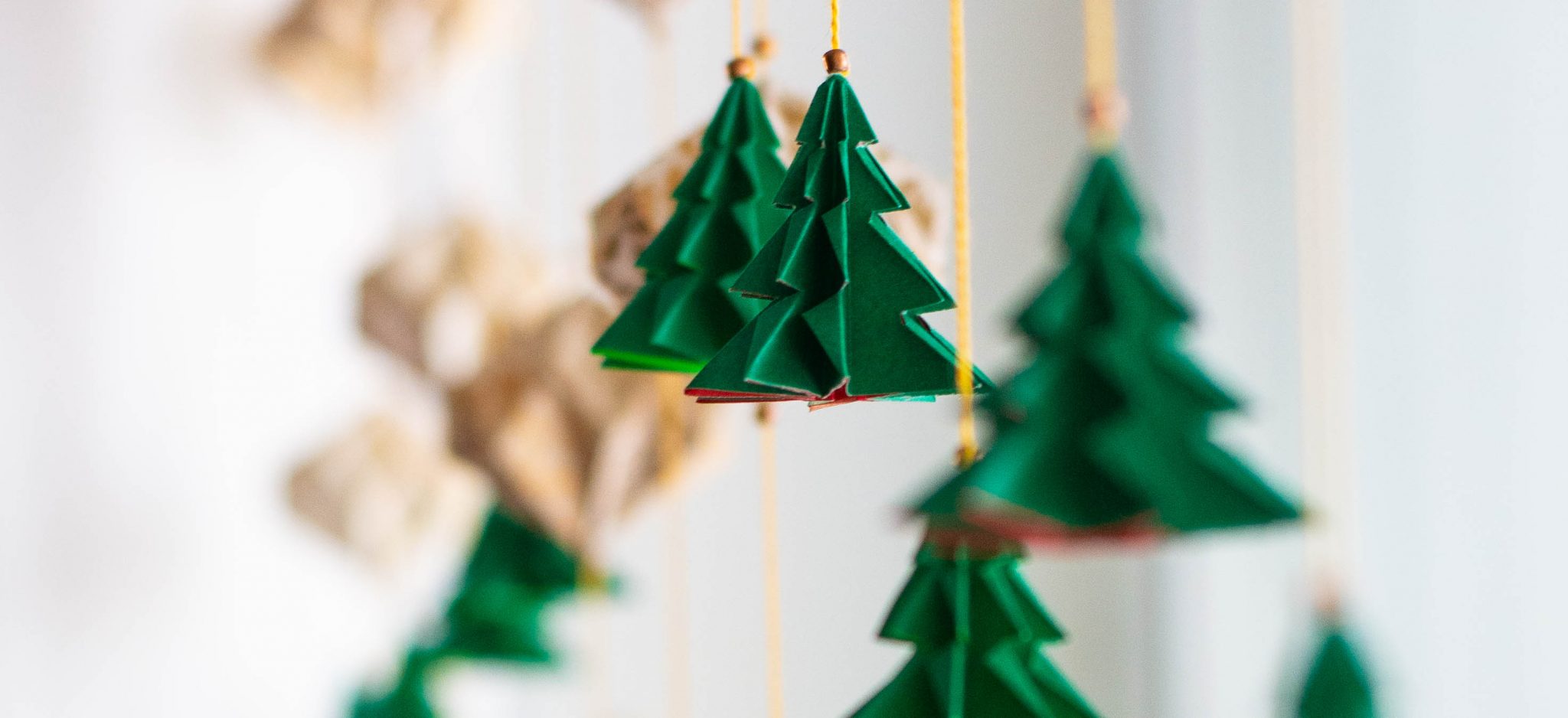 The first step that I had to make was choosing the paper. For the main element, which is the Ralaelita kusudama, I chose a red paper with golden snowflakes from Crelando. For the diamonds, I choose a soft white with golden elements (I have two paper models here) from Crelando. And for the trees, I went with slightly different shades of green from Tuttle.
After that, it was time to cut the paper to size. I went with 7.5  squares x 7.5 cm squares for all the models.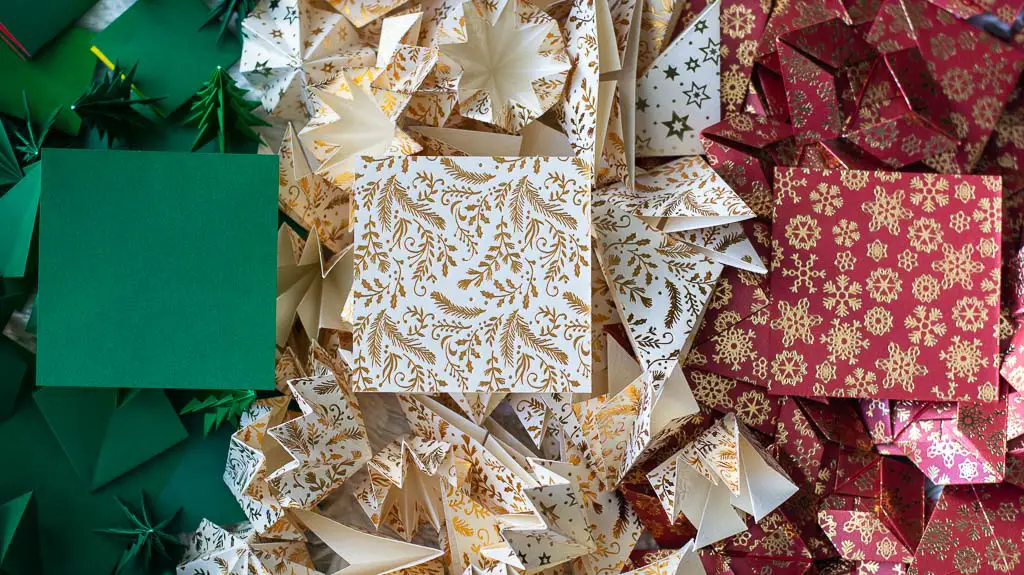 After having all the paper cut to size, I started folding it. 
When I have multiple modules to fold in the same way, I like to fold them in stages. I will fold as many as I can until, let's say step 3, and then fold them until step 6 and so on.
I don't always fold all of them until a certain point to keep a bit of diversity.
I could end up having a part of them until step 3, others until step 9 and some of them are folded all the way through.
Hope that what I'm trying to say makes a bit of sense.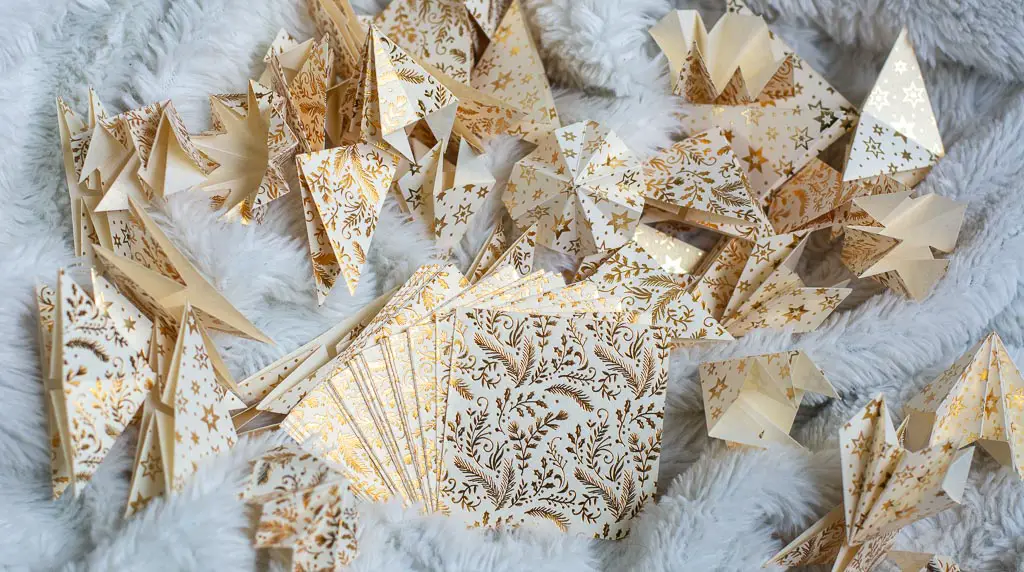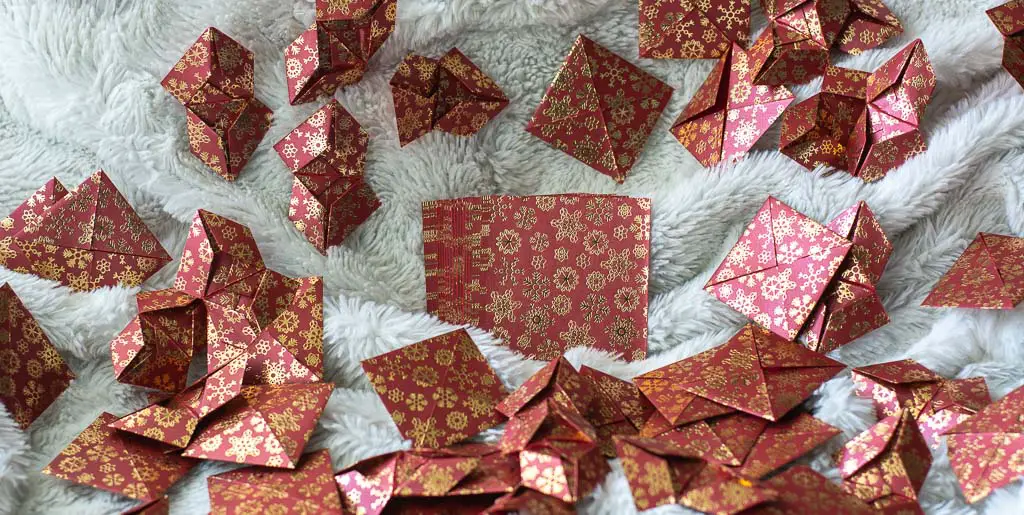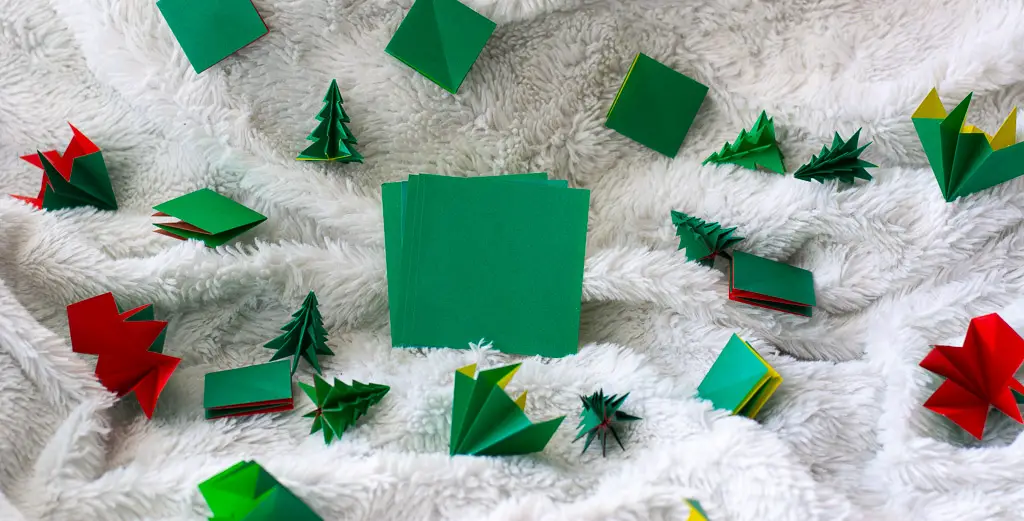 The most consuming part is folding and assembling the modules.
There are 84 modules for the diamond models and 90 modules for the Rafaelita kusudama. And let's not forget the 21 Christmas trees.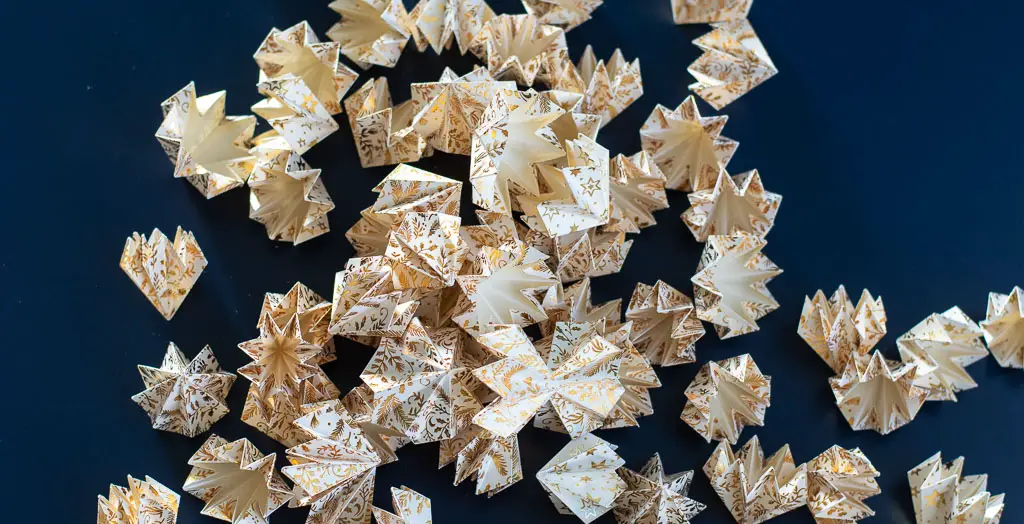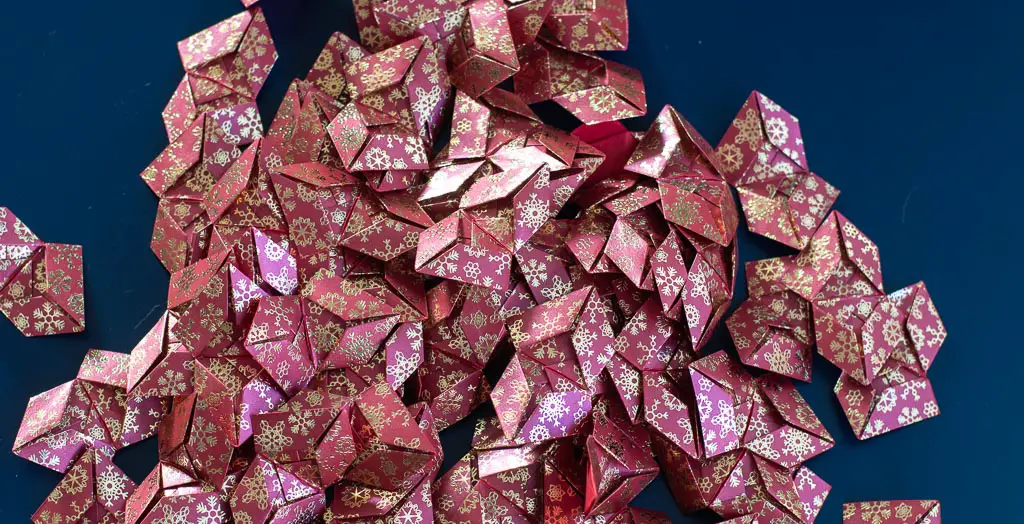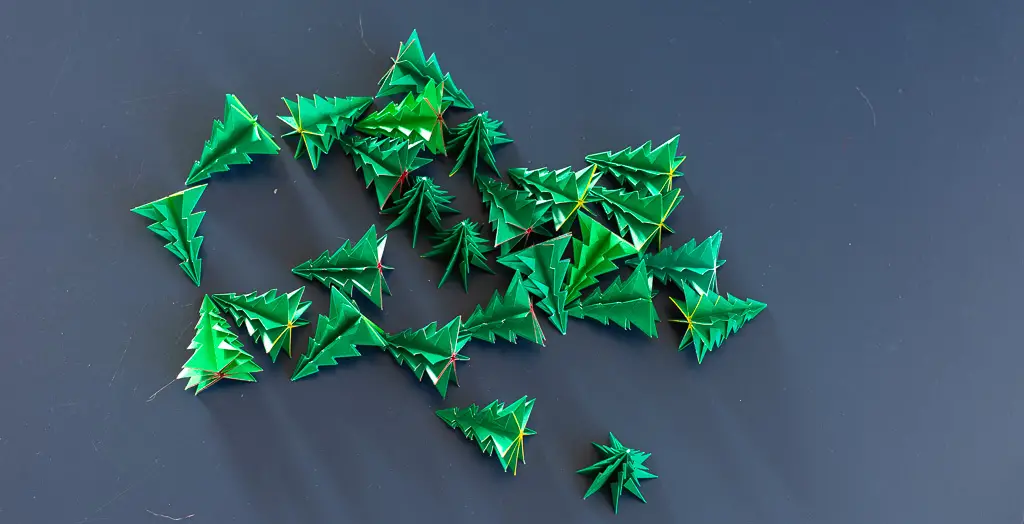 How to make the origami diamonds and the Christmas trees
You can see in the videos below how I folded and glue the diamond model as well as how I folded the Christmas tree model.
For the diamond model, the folding part is really easy to do, but gluing them together is another story.
I find that if the model is smaller it's easier to glue it. In the video, I used 15 cm x 15 cm paper.
As for the Christmas tree, as you can see it's really easy to fold and give it form.
Those are my first video tutorials, and I have to admit, that it was a bit more difficult than I was expecting. 
I hope you can understand how I folded it and I will soon make an image tutorial as well.
Ps. If you want to see the player options as well, please click on the video, it will open on Pinterest (you can also see it full screen). The file was too big to upload directly on the site.
The Assembling Of My Christmas Origami Garlands
It's time to start assembling everything.
For this step, I am using some golden cotton string from puppets perle 8, a needle and some small beads, copper color.
I decided that I want to make 5 garlands for each window pane.
So that will mean that I will have the first string in the following formation: one diamond, one tree, one diamond, and then one more tree.
For the second string, I will have 4 diamonds and one tree.
For the third, I will have one diamond, one Rafaelita, one diamond, and a tree.
For the fourth, I will have 4 diamonds and a tree and for the last string, I will have one diamond, one tree, one diamond, and one tree.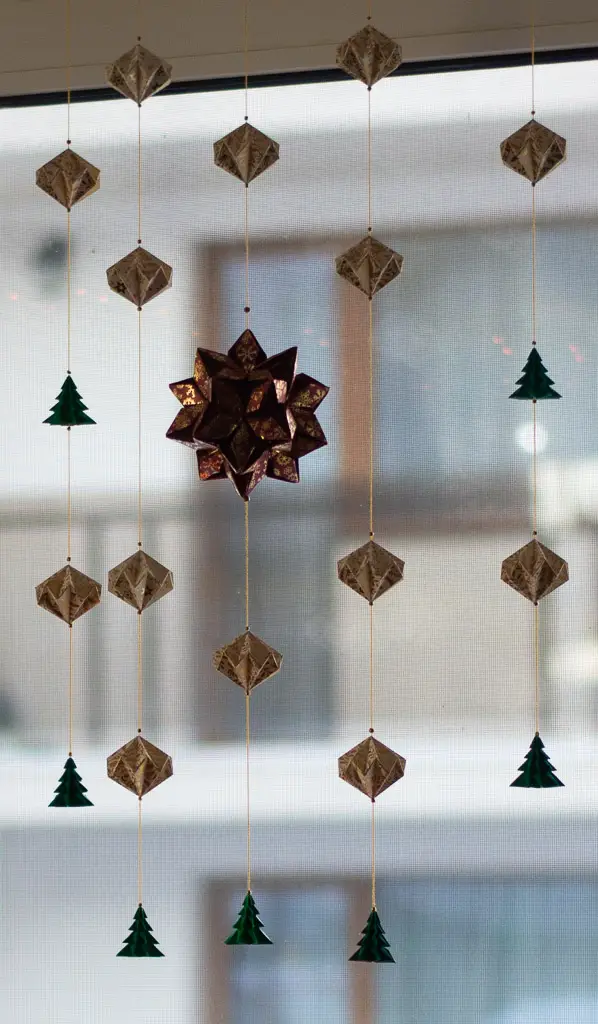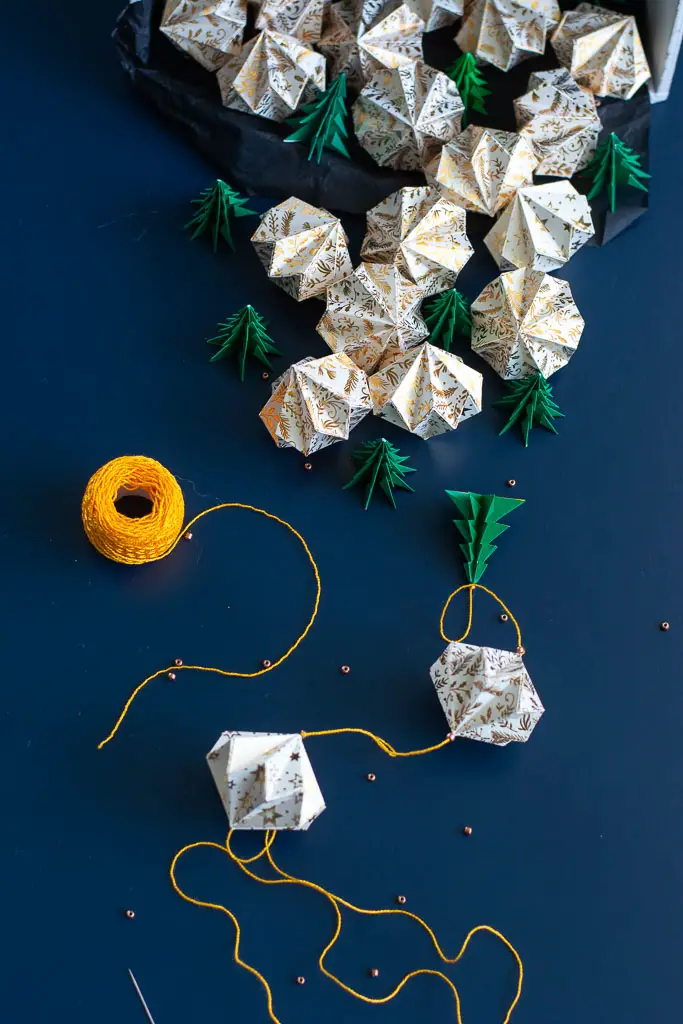 I started from the bottom up.
I will go with the string through a small bead, tie a knot, then use the needle to go through the tree, then use another bead to secure it in place, then use another bead just below the diamond and another above it.
Basically, I use beads that will have the string through them double time to make sort of a knot, to secure the elements in place, while also having some room to move them up and down if needed.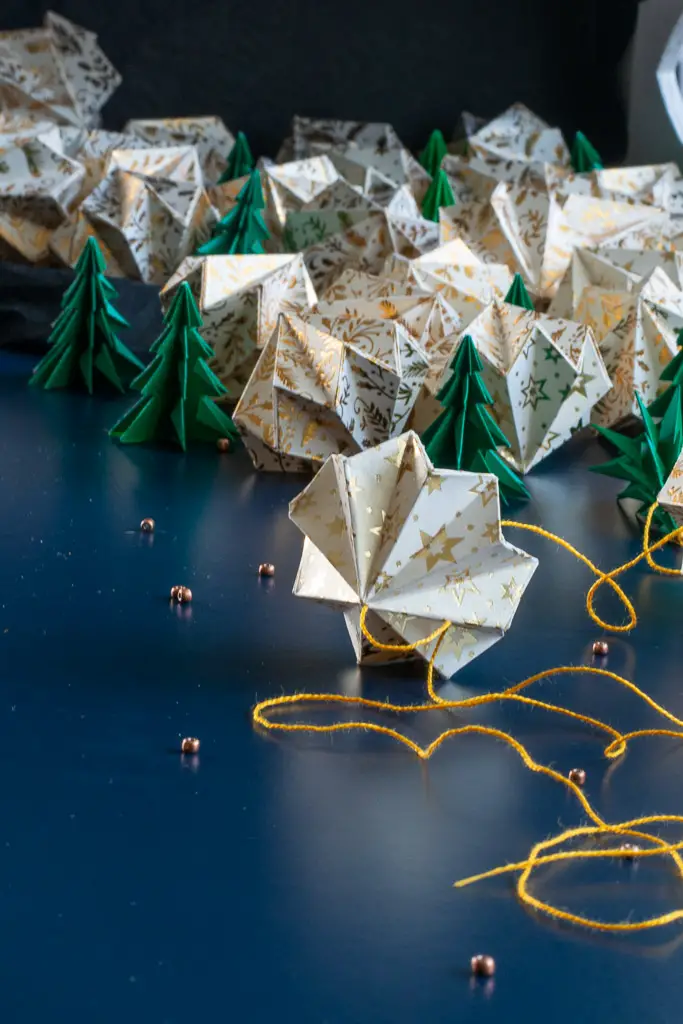 Hanging my christmas origami ornaments up
In order to hang them up, I made small hooks and tied a wire from one end to the other of the window.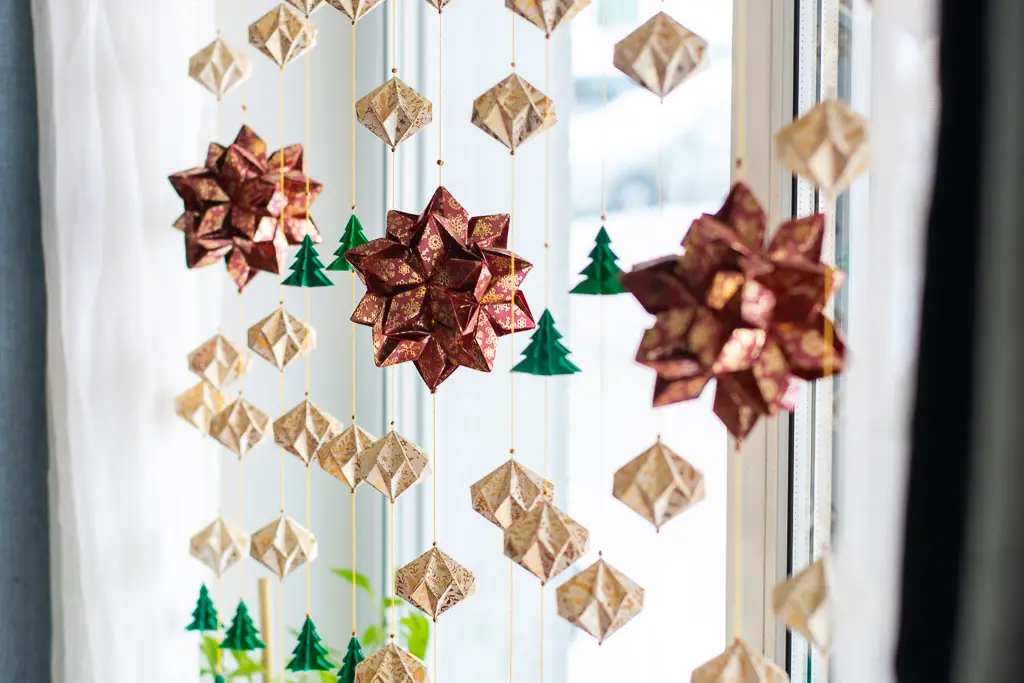 The joy of Christmas and winter is a special feeling that is experienced by people of all ages.
The crisp air, twinkling lights, and festive spirit create a magical atmosphere that is filled with warmth and happiness.
From the anticipation of Christmas Eve to the excitement of opening presents on Christmas morning, the holiday season is a time of joy and celebration.
The winter months also offer opportunities for outdoor fun, such as sledding, ice skating, and building snowmen, as well as indoor coziness, such as sipping cocoa by the fireplace and snuggling under blankets.
Whether surrounded by loved ones or enjoying a peaceful moment alone, the joy of Christmas and winter brings a sense of peace, happiness, and contentment that is unmatched at any other time of the year.
If you want to see more Christmas origami models, that I folded or curated lists, please check out those other articles that I have on the same subject: