I Just love winter and the holidays in this season. Every year I want to make my own decorations and make the house all festive and lovely.
This year I started earlier, and already have my origami Christmas wreath on the door and some other Christmas decorations that I will soon make photos of and share them with you.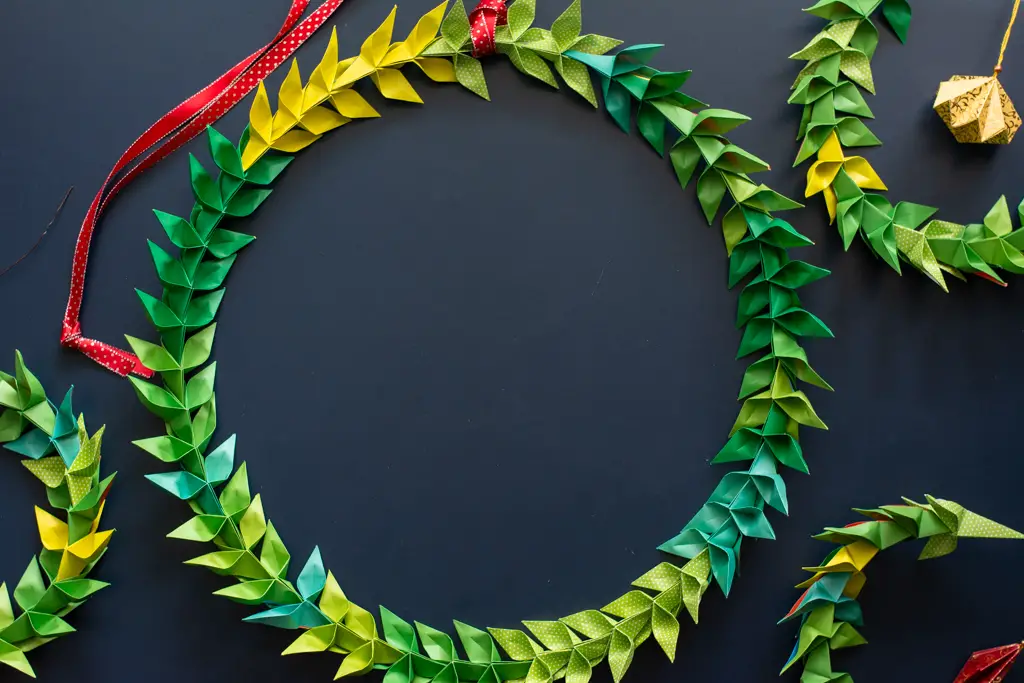 For a while now, I kept on seeing those beautiful paper leaves on Instagram, folded by different people. So I decided I want to give them a go and use them for this project. I also found two more models to try and combine with this one for more diversity in the wreath.
Because green and red works so well, and it makes you think of Christmas, I thought about using some red and also some white beads, but after all I just abandoned the idea.
Instead, I just ended up creating some cute small ornaments to hang in the center of the wreath. This is giving the mode a bit more depth and also something more interesting to look at.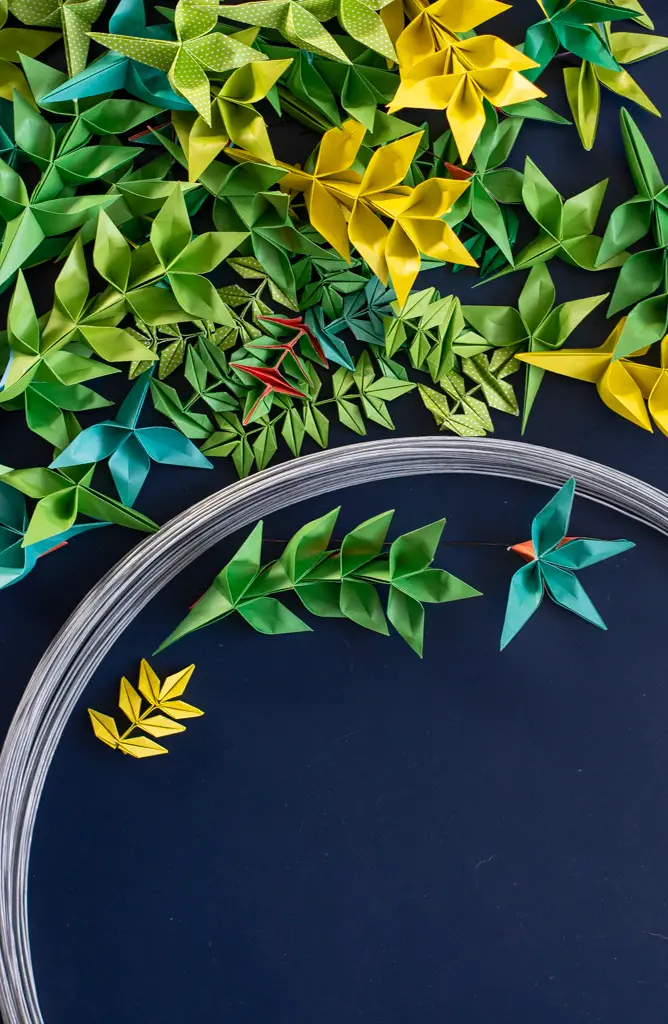 In the photo above you can see the three origami leaves models that I chose to fold and use in this project. 
We have two variations of the Olive/Willow Leaf as well as a model simply called paper leaves.
Now it was time to choose the paper, I wanted some nice shades of green and maybe some accents here and there. So I went with the Rainbow Colors Origami Paper by Tuttle Publishing and "Spring" Folding Sheets by Crelando.
For the two variations of the olive leaf, I used 7.5 cm by 7.5 cm paper. After the models have been folded the result was about 7 cm from left to right
For the paper leaves model, I started with a paper of 4 cm by 15 cm, and the end result is about 5 cm tall by 4 cm wide.
Below are the names and the tutorials for the leaves I folded.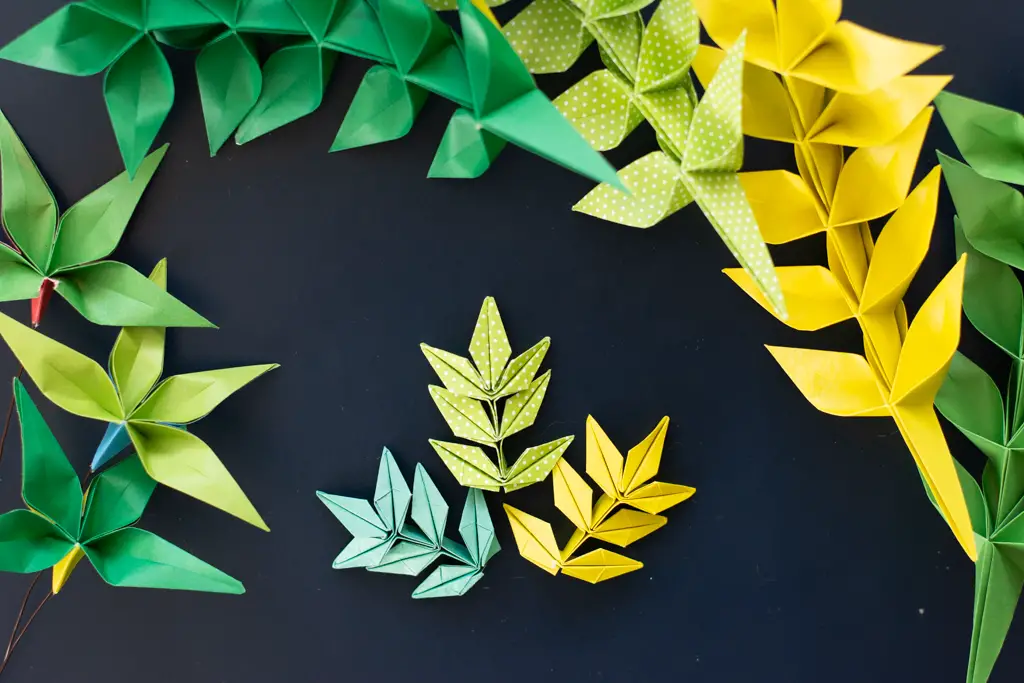 I knew color will be very important for this Christmas wreath, so I ended up using six shades of greens, one shade of yellow (those will be the Tuttle Publishing paper packs), and a patterned green that is from Crelando paper pack.
I think they all work amazing together and give some dimension to the origami Christmas wreath.
You can see all the beautiful colors as well as the pattern in the photo below.
The Tuttle Publishing paper pack is double-sided, so you can see the back color showing off on the back of the models.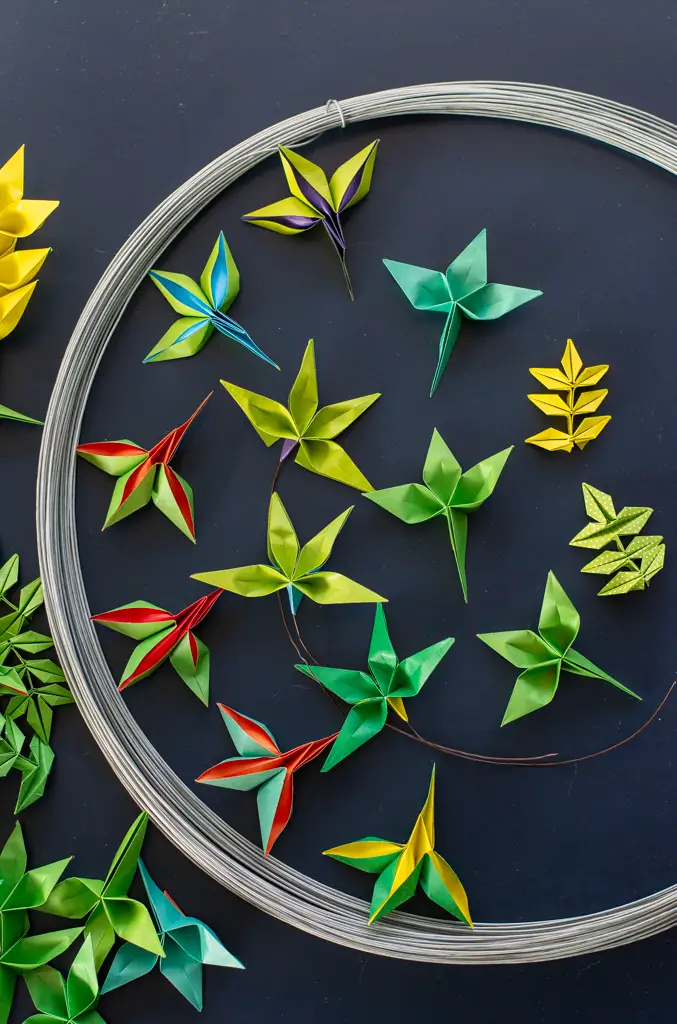 After having decided on the leaves models as well as the paper and colors that I want to use, I just have to start working, I mean folding, lots and lots of leaves.
And so I did. I ended up having a good bunch of them. They looked so pretty all next to each other.
When it came to actually put together this origami Christmas wreath, I had two options to go with. 
I could either make a simple one, just put the leaves on a string circle as I did in the photo below or I could braid them and get some more dimension out of it.
After making a demo, just putting the leaves next to the string circle, I saw that I have enough to try both of my ideas, so I went for it.
I start with the simple one, as it was really easy to do. Just "stab" the leaves with the string.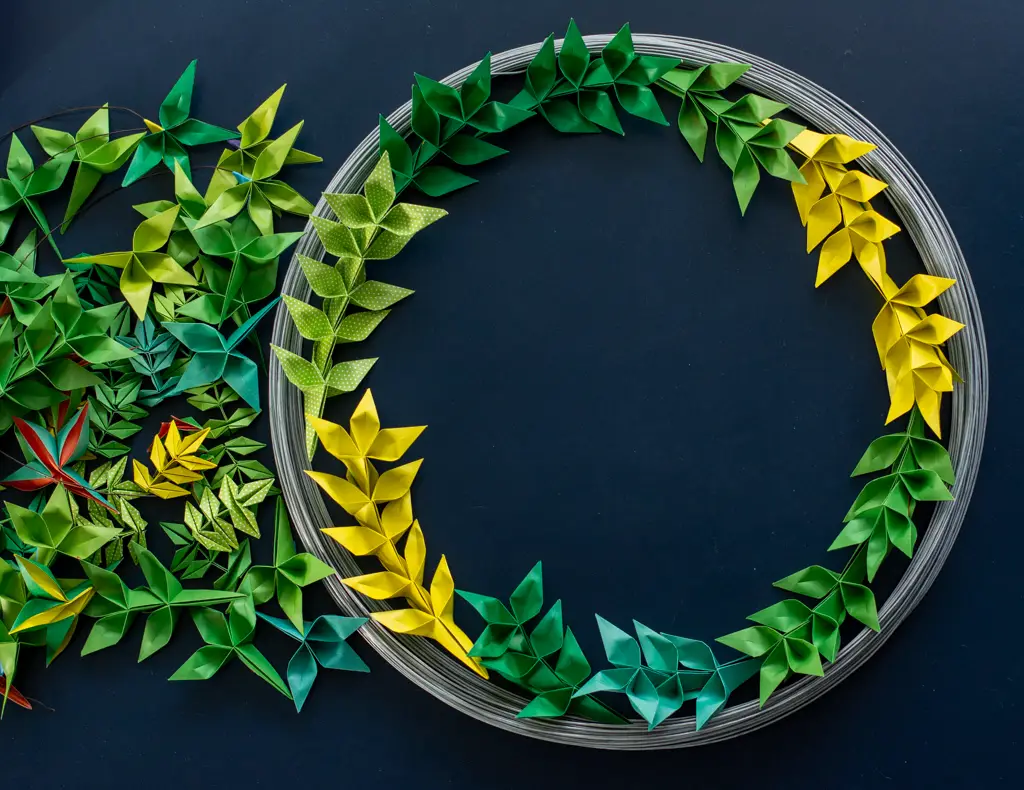 For the simple model, I could not figure it out how to use all three leaves model, as they do have different stalks.
I end up using only one. The first variant of the Olive Leaf. Even if it's just one model I still think it looks marvelous.
Now it was time to try the braid idea.
Well, it was easier in my head than in reality. I was not able to braid the pieces of string together, no matter how much I tried. I ended up just letting it go, as I became frustrated with them. 
But even though I could not braid them as I wished, I did not waste the leaves that I already folded.
I decided to make some mini origami Christmas wreaths that I can hang out in the window.
They are not a full circle but they all have a tiny ornament in the center. And having a window with three panels and three min wreath, was kinda perfect if I may say so myself.
Bellow, you can see all the details you need to know about the ornaments I used in the center of the wreaths.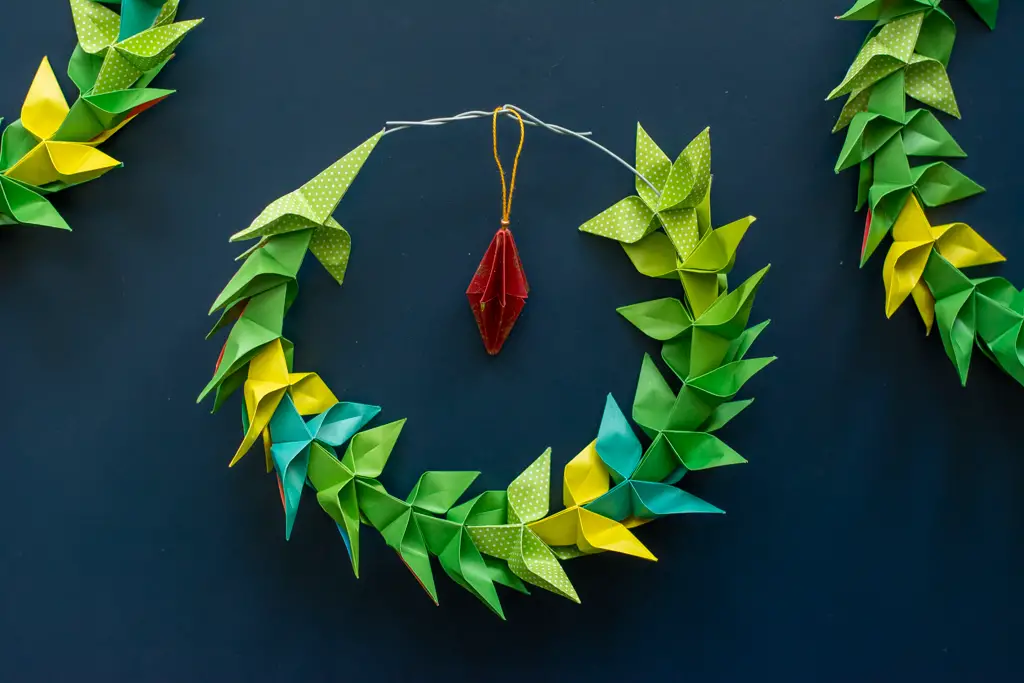 Model: Diamond Ornament
Tutorial: by Atelier Fête Unique
Modules: 2 pieces of square paper
Paper: 7.5 cm by 7.5 cm of Crelando paper
Final dimension: approximately 5 cm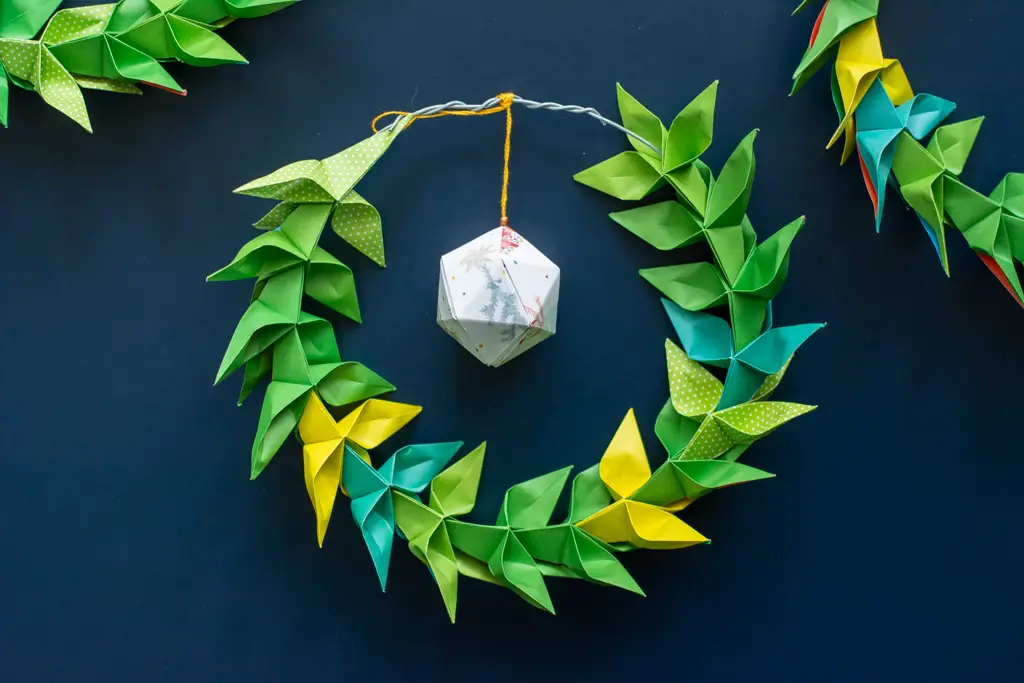 Model: Modular icosahedrons
Designed: by Tomoko Fuse
Diagram: Unit Origami Essence
Modules: 6 pieces of square paper
Paper: I don't remember the initial size, wrapping paper
Final dimension: approximately 5 cm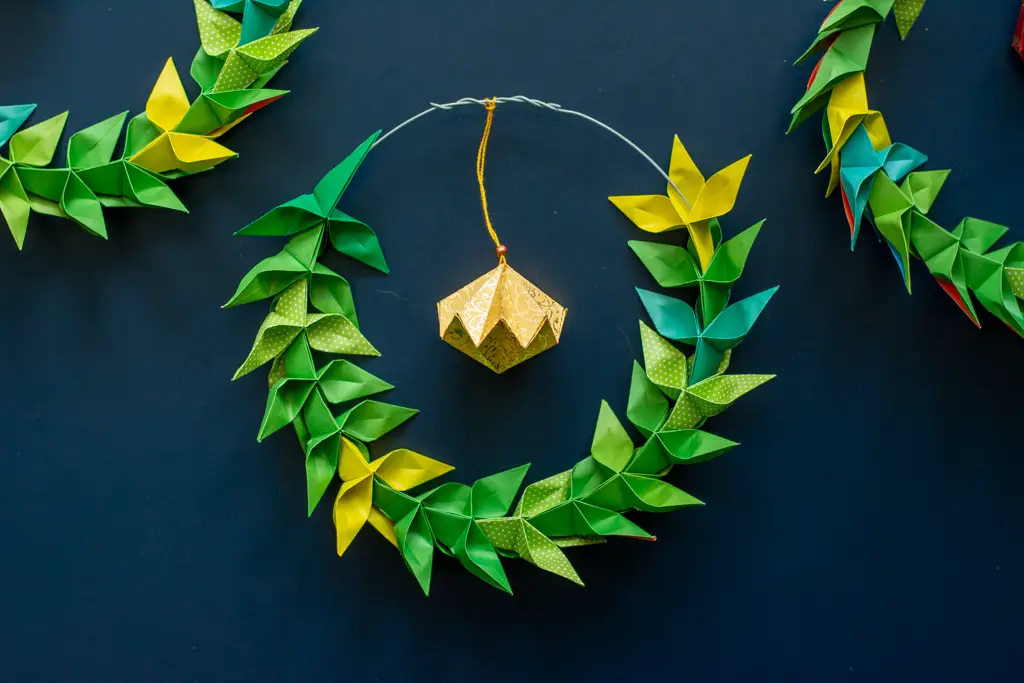 Model:Diamond Ornament ver. 2
Tutorial: You can find it here.
Modules: 2 pieces of square paper
Paper: 7.5 cm by 7.5 cm of Crelando paper
Final dimension: approximately 5 cm
So this is my Origami Christmas wreath. The big one is on my door already.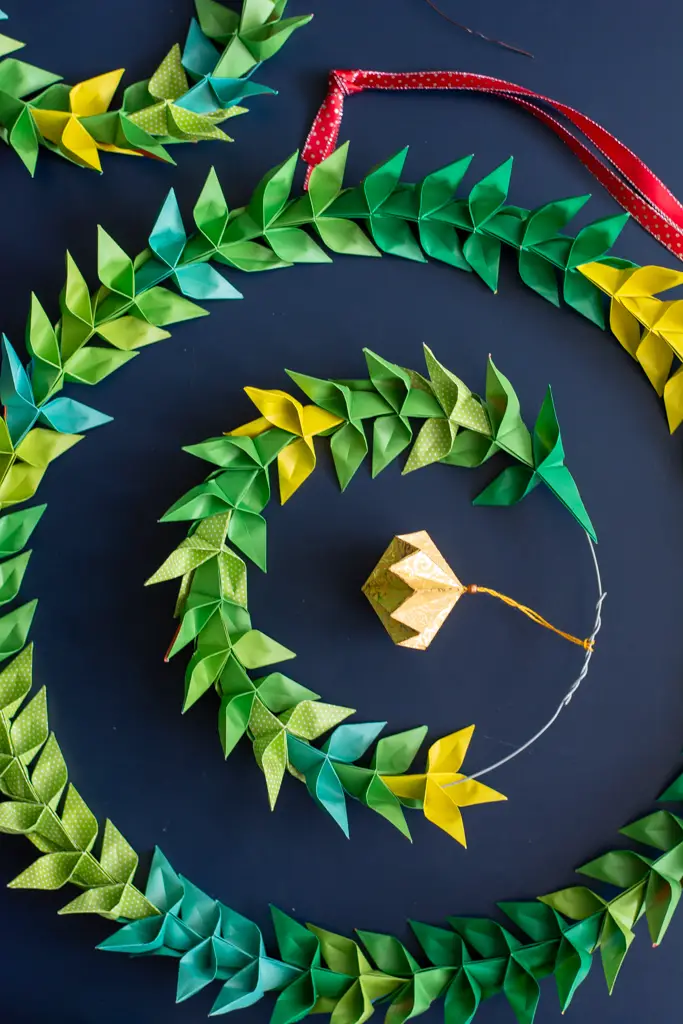 I hope I will hang the small ones on my window as soon as possible. I keep on postpone it because I have to clean the windows first, and I'm lazy about it. 
Because I still want a version with more dimension, and I still have some leaves folded that I did not use, I'm trying another idea and that is to make small bunches of leaves and wire them on a wire circle instead of trying to braid them on a wire circle. I haven't finished it so I have no photos of it yet.
If you want to see more Christmas origami models, please check out those other articles that I have on the same subject.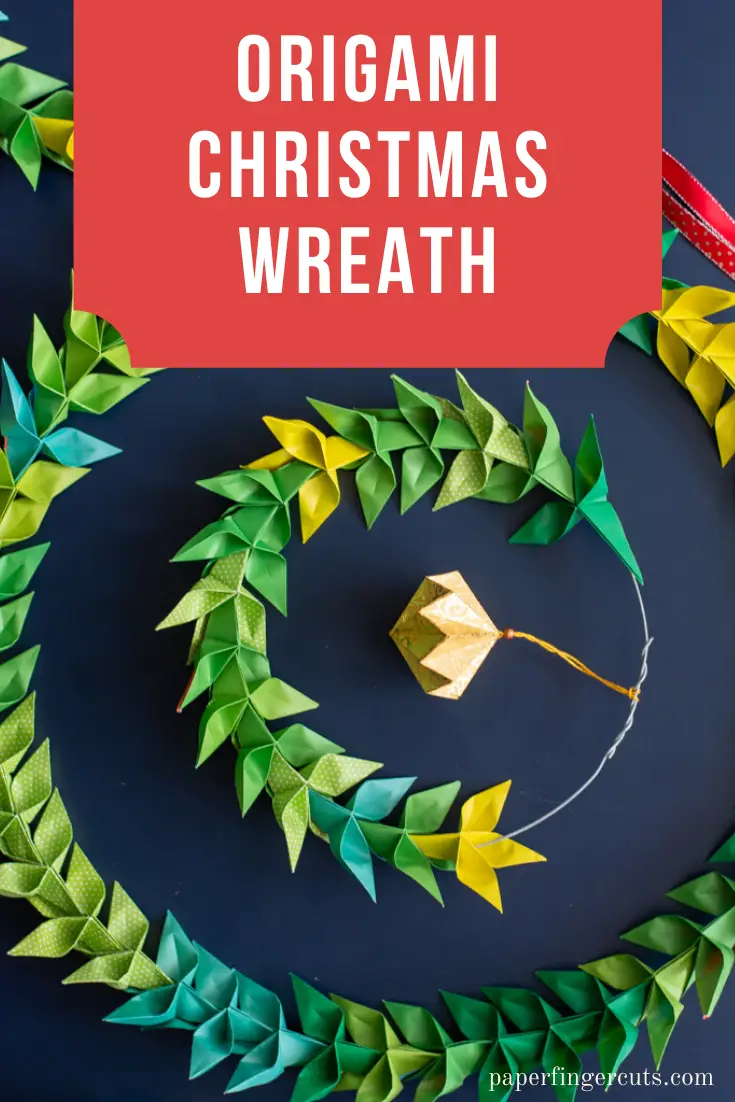 I'm a proud Hufflepuff who loves to fold origami models and share them with the world. When I'm not folding paper, I enjoy reading, walking, and spending time with my two adorable cats. I'm also a huge fan of ice cream, pizza, and garlic – the ultimate comfort foods! Oh, and I can't forget about my love for Volkswagens, pins and car model toys!