Over a year ago I got married. It was a beautiful day in May. I knew from the start that white origami cranes will be a must. I also knew that I preferred to be outside or in a tent.
After a lot of searching and replanning and changing my mind a million times, we find a beautiful place, a terrace, a quiet one, even if it was close to the city center. We had only a few quests, family, and close friends.
I was not able to make 1000 white cranes in the garland format, but I did have 1000 origami cranes on the table. They were all one on top of each other in this jar.
The cranes' garland was laid down on the long table we all sat at. I could not found a photo with them…but they were pretty. We also had soap bubbles, and as I later learned, soup bubbles are evil. I tried to catch one of them and hit the wine glass which stained some of the cranes.
So…after more than a year I was finally able to take them outside and photograph them, as one of the concepts was. Here is my handmade Origami Wedding White Cranes Garlands Backdrop in all it's beauty.
I'm so glad I took them in nature to really let them shine. I could not quite capture how beautiful they were, but I did my best, and hopefully, you will get an idea of how special your big day can be with some DIY origami cranes garlands.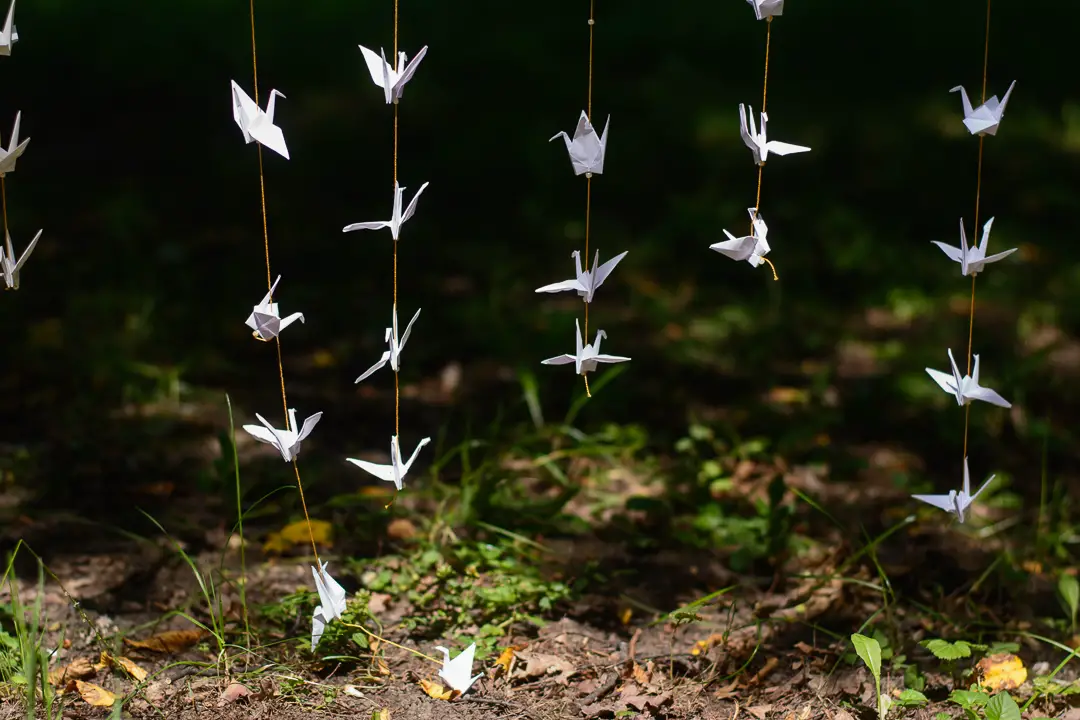 I also loved the pattern the shadows created on the ground.
And the way the cranes looked from underneath.
I really had a great time photographing them.